Americans say they're holding firm on holiday shopping – the season starts now
October 10, 2023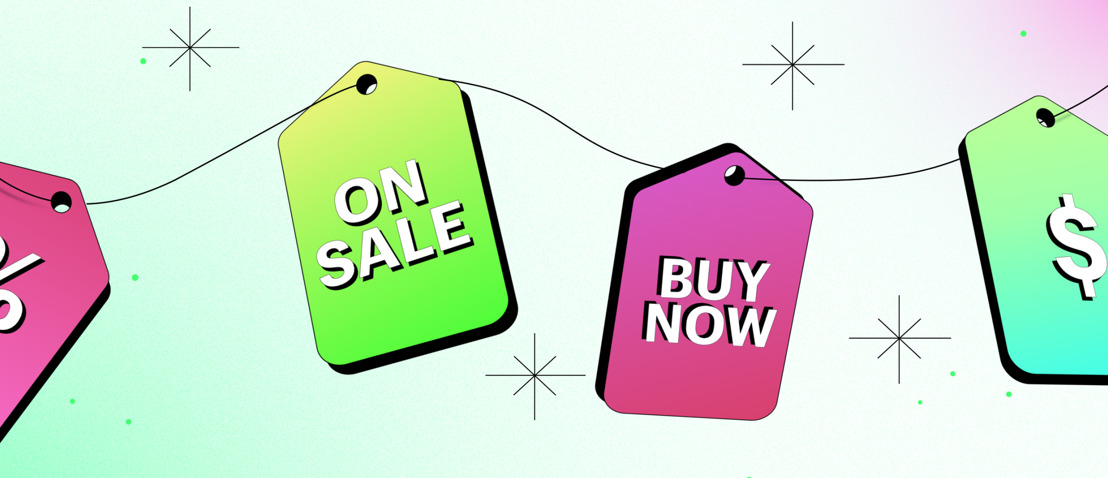 Nearly three in four holiday shoppers (74%) plan to spend about the same or more on holiday gifts this year compared to last year

41% plan to start shopping by the end of October

Gen Z is feeling the most generous: 37% plan to spend more than last year
'Tis (almost) the season retailers prepare for all year long. But it's a tough economic climate in the U.S. with the rise of interest rates, inflation, and signs of tighter spending. So how will this impact holiday shopping?
Not as much as you might think, based on the Shopify-Gallup Holiday Shopping Pulse, a series of surveys that will give you unique insights into U.S. consumers throughout the season. For our first, we asked 1,761 people in September how, when, and where they plan to shop for gifts this year.
The upshot: most shoppers told us they're holding firm. Nearly three in four shoppers surveyed (74%) plan to spend the same amount or more on holiday gifts this year compared to last year.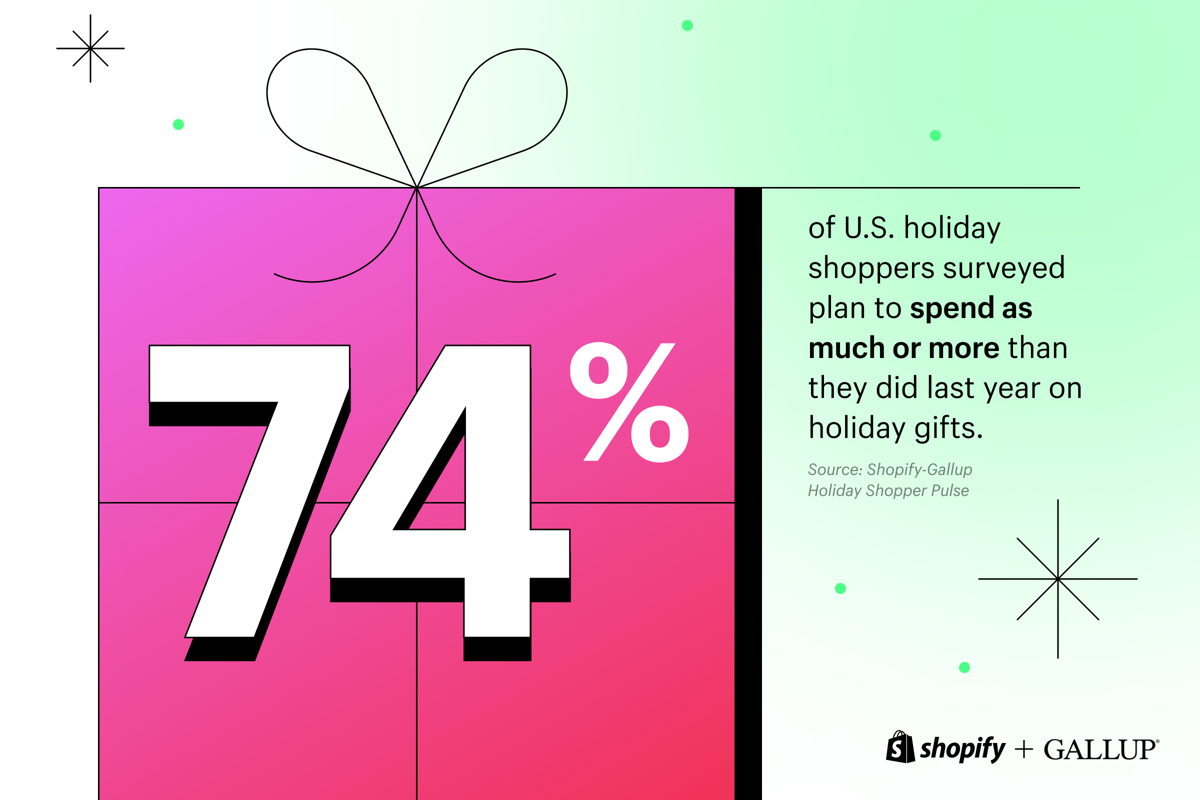 This points to an opportunity for the millions of businesses gearing up for their biggest sales period of the year. For many consumers, that period has already started: 41% of holiday shoppers plan to start shopping by the end of October to get a head start on the holiday rush. But last minute shopping is still popular, with 39% waiting until November and one in five holding strong until December (you know the ones).
And while most people are ready to shop this season, one age group seems to be really feeling the holiday spirit.
Gen Z is fueling the economy
The youngest shoppers (ages 18 to 29, largely adult Gen Zs) are shaping up to be the most resilient spenders this year.
Thirty-seven percent of them expect to spend more than last year. That's nearly double the average across all age groups.
These young shoppers are also by far the most likely to respond to holiday deals. Nearly half of them (48%) said they would probably or definitely start shopping earlier if retailers rolled out holiday deals and promotions earlier. That's a wake-up call for retailers to make better use of earlier deals specifically to cater to this group. While younger shoppers aren't the only ones who could be persuaded by earlier discounts, the average across all age groups was much lower, at 28%.
They're also the most ready to shop on social. No surprise, but the numbers are impressive: about half (48%) said they'll buy at least some gifts through social media, compared to one-third of all U.S. holiday shoppers.
Shoppers want to support small businesses
Shopping small is still big, driving holiday purchase decisions this season. Nearly one in four (23%) shoppers rank shopping with small and local businesses the top reason they choose one retailer over another. These businesses can take advantage of this by creating specific promotions for Small Business Saturday, which this year falls on November 25.
Brick and mortar stores are open for business, but the lion's share of this season's shopping could take place online. Almost everyone (93%) will buy at least some gifts online, and nearly half (47%) indicate they will purchase all or most of their holiday gifts online.
In short, "Cha-ching" could well be the sound of the season.
September's trending products
Another way we empower our merchants and industry professionals with valuable insights: monthly retail trends data.
As shoppers shift from summer to fall purchases, we looked at September vs. August sales by Shopify merchants in the U.S. Here are a few trends that stood out:
'Tis the season: Fall and winter holiday items were top sellers as people got ready to celebrate.
Costume sales were up 262% month-over-month, with masks up 60% as folks gear up for Halloween. It's not just what you wear, but getting the house ready, too. Shoppers continued to buy holiday decorations early, up 76% from August.

Holiday stocking sales increased 98% and wreaths were up 101%.
Sweater weather: People are stocking up on winter essentials.
Outerwear, scarves, coats and jackets were all up over 50% from August.

Consumers stocked up on snowsuits and snow pants – up 62% – so they will be ready to hit the slopes and go sledding.
Tech and toys are top of mind for the shoppers who are getting a jump start on holiday gifts.
Play vehicles are making power moves this fall, with sales up 178% month-over-month.

Phone and tablet accessories like tripods are on the rise, with sales jumping 225%.
👀 Stay tuned for more shopping insights as we gear up for our merchants' busiest time of the year. We'll be cheering on every business on our platform, from kitchen-table headquarters to global enterprise level. You've got this! And we've got you. 💚
–
Results for this Shopify-Gallup Holiday Shopper Pulse survey are based on self-administered web surveys conducted September 1-14, 2023, with a random sample of 1,761 U.S. adults, aged 18 and older, who indicated they planned to buy holiday gifts this year. All participants are members of Gallup's probability-based, nationally representative panel. For results based on the sample of holiday shoppers, the margin of sampling error is ±3 percentage points at the 95% confidence level.
Data for the question on spending more, less or the same as last year was collected in a separate telephone survey to maintain comparability to past measures for that question. Those results are based on a September 1-23 Gallup telephone survey of 909 randomly selected U.S. adults. The margin of error for the telephone survey is +/-4 percentage points.
–
September sales by Shopify merchants in the U.S. is based on data from Sept. 1-23, 2023, and compared to data from Aug. 1-23, 2023.