Shopify brings commerce to TikTok
October 27, 2020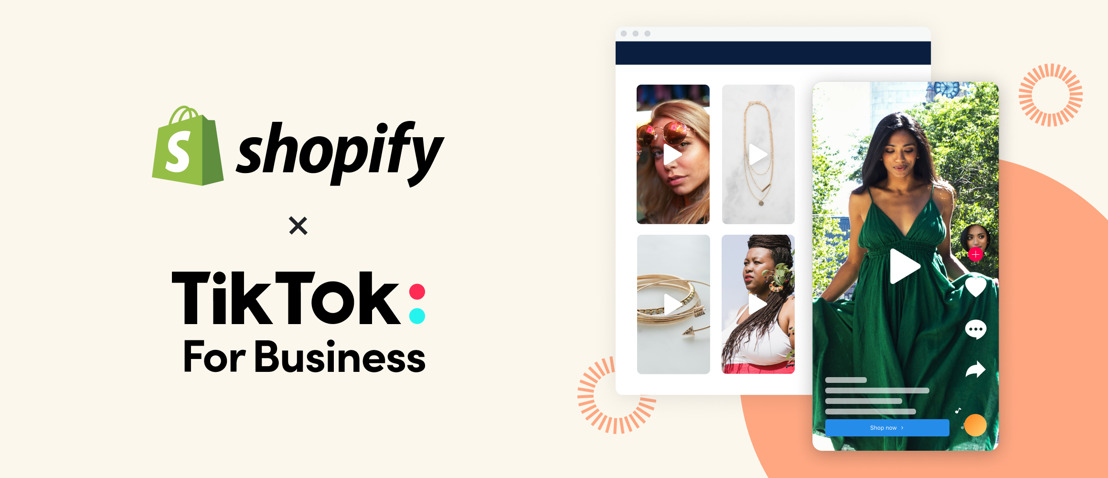 Partnership includes joint TikTok Hashtag Challenge to support Black entrepreneurs, #ShopBlack
Today, we're announcing a first-of-its-kind commerce partnership with TikTok that brings the world's leading destination for short form video to Shopify's more than one million merchants. With the TikTok channel for Shopify, merchants can take advantage of TikTok's global scale to reach new and highly engaged audiences.
Building a successful brand means Shopify merchants need to be wherever their customers are spending time, and today that means growing their social commerce presence. The TikTok channel allows merchants to create and connect their TikTok For Business account and deploy In-Feed shoppable video ads directly within Shopify. Merchants select which product they would like to feature, and video ads are automatically generated that drive to their Shopify stores for checkout. Ready-made templates designed specifically for commerce mean merchants of any size can take advantage of the TikTok channel using their existing imagery or video.
Shopify and TikTok will also collaborate to test new commerce features over the coming months that will further empower merchants to expand their paid and organic reach in video and on profiles.
"We're thrilled to be the first partner to welcome TikTok to the world of commerce, particularly right now, as our merchants prepare for a busy online holiday shopping season," said Satish Kanwar, Vice President of Product at Shopify. "TikTok is one of the world's fastest growing entertainment platforms with over 100 million highly engaged users in the US alone. The TikTok channel means Shopify merchants—even those without a strong TikTok following of their own yet—can connect with these new audiences using content that feels authentic and genuine to the TikTok experience."
"We are delighted to partner with Shopify and provide a channel for their merchants to reach new audiences and drive sales on TikTok," said Blake Chandlee, Vice President, Global Business Solutions at TikTok. "As social commerce proliferates, retailers are recognizing that TikTok's creative and highly engaged community sets it apart from other platforms. We're constantly exploring new and innovative ways to connect brands with our users, and Shopify is the perfect partner to help us grow and expand our commerce capabilities globally."
The TikTok channel is now available in the US, and will become available in other select markets throughout North America, Europe and Southeast Asia in early 2021. To learn more about the TikTok channel, visit apps.shopify.com/tiktok.
#ShopBlack: Shopify and TikTok launch the #ShopBlack Hashtag Challenge Plus
Commerce needs more Black entrepreneurs. In addition to launching the new TikTok channel, Shopify and TikTok have also partnered to showcase Black-owned businesses with the launch of TikTok's first co-branded Hashtag Challenge Plus (HTC+), #ShopBlack.
Running from November 10 to 15, TikTok users can spotlight their favorite Black-owned businesses using the hashtag #ShopBlack. The campaign, which also features a custom branded effect, music and creator content, will highlight products from more than 40 Shopify merchants, giving TikTok users a resource to support Black-owned businesses.
"Being able to quickly and effectively drive new customers to my website is extremely important since we live in such a fast-paced world," said Michael Terrence Nightwing, Founder and CEO of Neter Gold, a natural body care brand. "With TikTok and Shopify working together the process for reaching new customers will be much smoother. And I can spend less time working and more time creating, which is exactly why I'm looking forward to the #ShopBlack Hashtag Challenge, and why deciding to participate was a no brainer for me."
To continue Shopify's support of Black merchants, and to help surface new Black-owned businesses to consumers, today Shopify is also launching the Black Business Directory. Shoppers can use the directory to discover and buy from Black Shopify merchants. The launch of the directory follows our recent announcement that Shopify and Operation Hope have joined forces to help create one million Black-owned businesses by 2030.
About Shopify: Shopify is a leading global commerce company, providing trusted tools to start, grow, market, and manage a retail business of any size. Shopify makes commerce better for everyone with a platform and services that are engineered for reliability, while delivering a better shopping experience for consumers everywhere. Headquartered in Ottawa, Canada, Shopify powers over one million businesses in more than 175 countries and is trusted by brands such as Allbirds, Gymshark, Heinz, Staples and many more.