Going all in to get carbon out: Shopify's commitment to climate entrepreneurs reaches $32M
March 28, 2022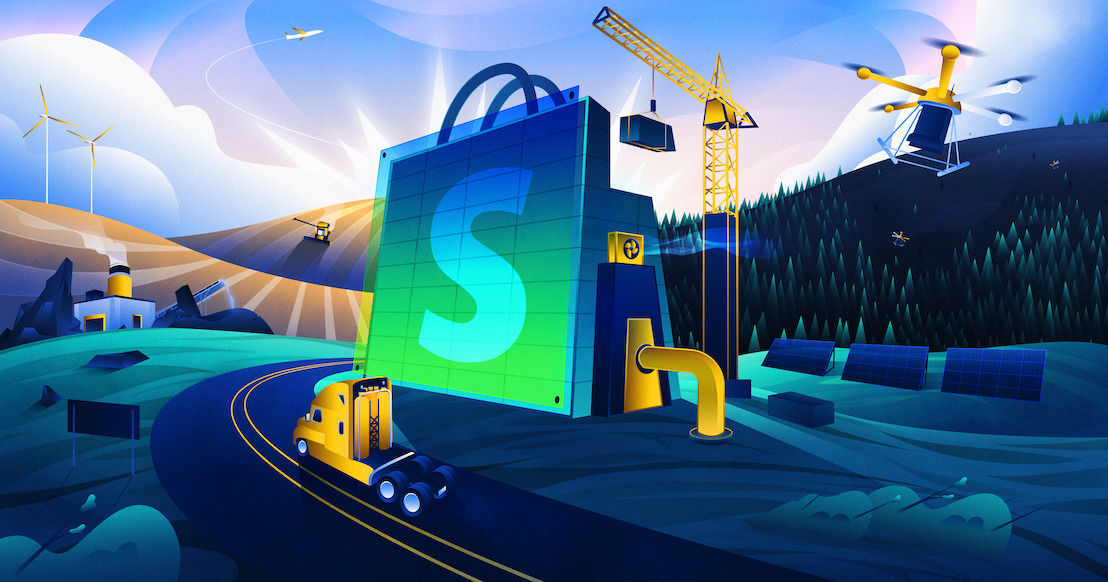 Shopify's Sustainability Fund partners with 9 new entrepreneurial trailblazers
Picture this: the year is 2030 and companies are approaching net-zero commitment deadlines, yet no solutions exist at scale that pull carbon dioxide out of the air and lock it away for the long term. Targets will be missed, and more importantly, we'll have wasted the most important decade yet to reverse climate change. This scenario is on track to become reality. To rewrite our planet's future, we need to accelerate carbon removal solutions today.
To build the future we all need, Shopify is supporting nine new entrepreneurial, tech-driven companies through our Sustainability Fund, bringing our total carbon removal purchase commitment to $32M. Shopify is the largest purchaser for eight and the first purchaser for four of these new partners. As the largest purchaser, we are providing companies with a strong revenue stream that helps them secure financing, and as the first purchaser, we are sending a clear market signal for others to buy from these partners.
This latest round of purchases expands our position as one of the largest corporate purchasers of long-term carbon removal (aka pulling carbon dioxide out of the atmosphere and storing it 100+ years) globally with 39,380 tonnes total.
Each company we've purchased from is working towards our shared goal of finding innovative ways to create a more sustainable future. They've created solutions that could truly revolutionize their sector and make an impactful contribution to reversing climate change at scale. Spanning multiple industries, our new partners include:
Details on each can be found below. They join 13 companies that have already received funding from Shopify's Sustainability Fund.
We selected these new companies based on several critical factors, including technology and process, plans to scale, and the size of impact our purchase could have. Our purchases will help them bring their vision to market, increase adoption of their offerings, and lend confidence to their solutions. Our dollars are enabling them to scale, so they can ultimately provide more customers with effective and affordable carbon removal solutions.
"Purchasing carbon removal from leading companies is critical to helping them scale, but purchasing from emerging companies pursuing novel approaches is equally essential. We need as many companies as possible innovating in this space to remove over 200 years of emissions to go beyond critical emission reductions."
- ​ Stacy Kauk, Shopify Head of Sustainability
In just three years since the inception of our Sustainability Fund, we have demonstrated demand for carbon removal where there previously was none. Other buyers have now entered the market. Carbon removal companies have accelerated their development using the prepayments in our agreements, as well as the external capital these contracts have unlocked. We have made a significant impact: multiple companies we have supported through our Fund have raised tens of millions of dollars, grown their carbon removal capacity by as much as 80x, and increased their customer bases by up to 40x.
Our approach is working. It's time to double down on long-term carbon removal and the forward-thinking, climate-driven entrepreneurs behind it.
We can't scale carbon removal alone.
"We're calling on other companies to join us and help scale carbon removal. Without a greater demand signal, the nascent long-term carbon removal market could collapse," Kauk says.
While we make strides toward a better future, Shopify hopes to inspire action now. While we must minimize new emissions, the removal of historic emissions is also critical. How can other companies join us in our mission to accelerate carbon removal?
Pay a premium today: Instead of offsets, purchase carbon removal from companies that are pulling carbon dioxide out of the atmosphere and storing it for the long term, even when the cost is high. Your purchases will help drive that price down for yourself and others.
Support emerging companies: Don't only look at well-known, more established companies. Take some chances on innovative startups that could change the world. This will increase our odds of finding novel approaches that scale successfully.
Send a stronger demand signal: Sign larger and longer offtake agreements and letters of intent. This provides the demand that carbon removal companies need to secure low-cost capital to construct their large-scale facilities and scale up.
If more of us take these steps to demonstrate demand and accelerate growth, we can make a far greater impact than any of us could achieve on our own.
To learn more about our sustainability efforts, visit shopify.ca/about/environment.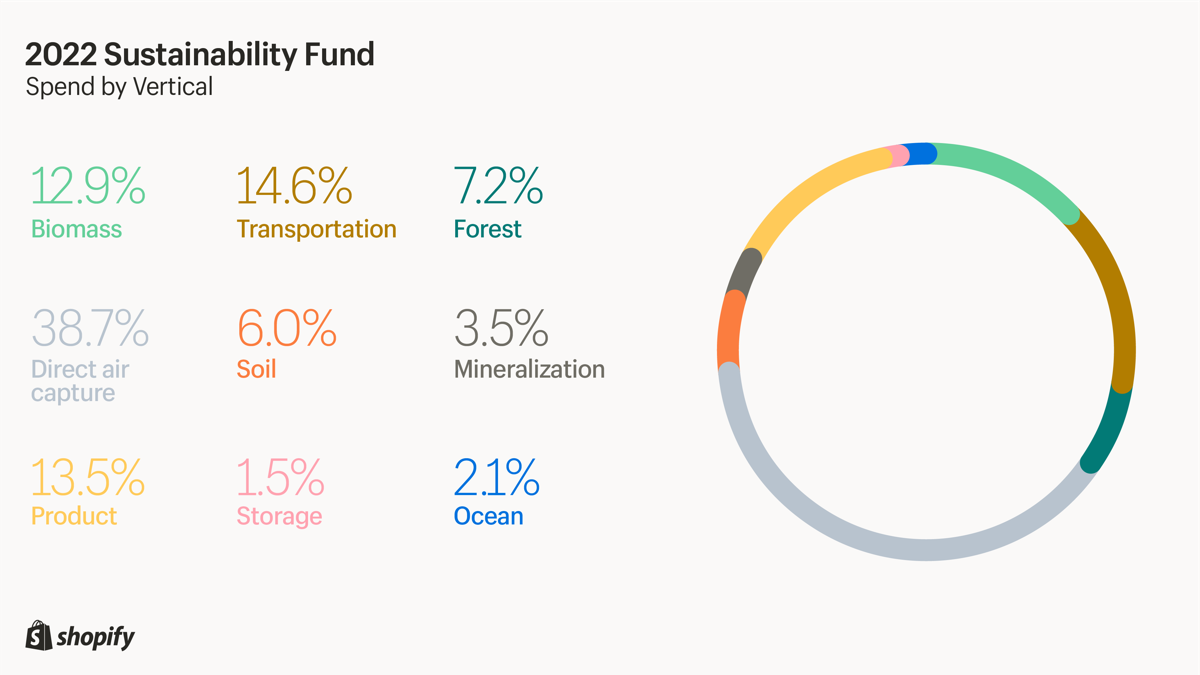 Shopify's Sustainability Fund Investments
Our fund is divided into two portfolios:
Frontier Portfolio: Groundbreaking technologies and companies that remove carbon from the atmosphere and store it for the long term. We believe these solutions have massive potential to reverse climate change.
Evergreen Portfolio: Key solutions that temporarily remove carbon (often nature-based approaches like soil carbon storage and reforestation) or reduce carbon emissions (with renewable power and clean fuels). We can put these solutions to use now, to try to prevent the situation from getting worse, while long-term carbon removal technologies begin to scale to undo over 200 years of emissions.
New partners to our Frontier Portfolio:
44.01 (storage; 2,882 tonnes): Harnesses the natural power of mineralization by injecting captured CO2 into peridotite rock formations, where it mineralizes safely and permanently. Shopify is covering the mineralization costs of its purchased storage capacity at 44.01's sites in Oman, where 44.01 will receive CO2 from direct air capture companies.
Arca (mineralization; 200 tonnes): Accelerates and optimizes permanent carbon removal in mine tailings, with the goal of enabling mines to produce both net-negative emissions and the metals essential for the clean energy transition. Shopify's purchase will support expensive early testing, while the mining industry waits for Arca to move down the cost curve.
CarbonBuilt (product; 5,200 tonnes): Breakthrough technology that enables the production of low-cost, low-carbon, "no-compromise" concrete products, starting with concrete blocks. Shopify's multi-year purchase provides a guaranteed revenue stream for concrete producers that accelerates adoption on a path to removing gigatonnes of CO2 per year.
Noya (direct air capture; 1,445 tonnes): Its technology captures CO2 from air moved by existing cooling towers, which sit on top of almost every commercial and industrial building. Shopify's purchase will help fund Noya's pilot project to demonstrate the world-wide applicability of its technology, and make it easier for Noya to get buy-in from other key stakeholders, allowing it to move faster.
Sustaera (direct air capture; 5,000 tonnes): On a path to creating modular direct air capture technology that costs less than $100/tonne at scale by using naturally available, abundant materials that rapidly absorb atmospheric CO2 and can be efficiently regenerated using renewable energy. Shopify's purchase will help Sustaera demonstrate its technology and expedite deployment.
New partners to our Evergreen Portfolio:
DroneSeed (forest; 50,000 tonnes): Reforesting land affected by wildfires by combining legacy practices with new technology (e.g. drones) to mitigate the mounting loss of forests due to climate change. Shopify is purchasing forward-looking Climate Action Reserve-certified carbon offsets from DroneSeed's largest offset project to-date, which will replant 300 acres of forest lost in Oregon's Beachie Creek Fire of 2020.
Loam (soil; 7,901 tonnes): Developed a microbial seed coating that increases carbon in soils, as well as crop yields, and is simple for farmers to apply, laying the groundwork for gigatonne-scale CO2 removal. Shopify's purchase will enable Loam to scale its technology faster and conduct enhanced soil carbon measurement to increase the confidence future buyers will have in soil carbon credits.
Remora (transportation; 23,166 tonnes): Its technology captures CO2 from semi-truck tailpipes as they drive, with the CO2 destined for long-term storage. With Remora deploying its first devices on semi-trucks over the next few months, Shopify's purchase will help grow adoption further, to decarbonize shipping on land and bring value to merchants around the globe.
Twelve (transportation; $2.5M of E-Jet): Transforms captured CO2 to produce E-Jet®: aviation fuel with an 80%+ lower carbon footprint than jet fuel made from fossil fuels. Through this first-of-its-kind agreement, Shopify's purchase of E-Jet will support Twelve as it scales, accelerate future adoption by commercial airlines and freight carriers, and help bring more E-Jet to market.
Increased purchase in our Frontier Portfolio:
Carbofex (biomass; 2,500 tonnes): Innovative technology that turns waste wood into carbon-rich biochar. Following Carbofex's successful first commercial operation, Shopify is expanding its support by 12X with a new purchase that will help Carbofex scale its CO2 removal capacity and explore atmospheric carbon storage methods, before expanding globally.
---
Feature illustrations by Cody Muir