Hold onto your hats—things are about to get windy at Shopify. We're powering all North American home offices with wind energy
March 10, 2022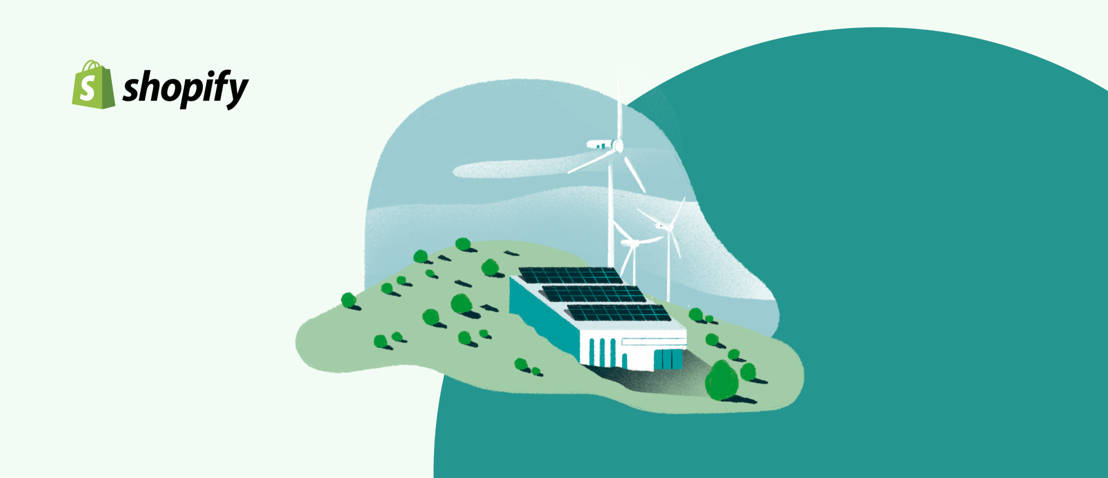 Shopify is supporting the development of a new wind farm in Alberta, Canada
In May 2020, Shopify reimagined how we work: office centricity is over and the future of Shopify is Digital by Design. Over the last two years, our employees have adopted and embraced a digital-first way of thinking, working, and making decisions. This remote-first work environment shifted our energy usage from physical office buildings to our home offices.
Shopify already powers 100% of our global operations with renewable energy, which includes every employee's home office, and now we're changing the way we do it to create greater climate impact.
Shopify has proudly become the first Canadian company to sign a power purchase agreement (PPA) to power 100% of employee home offices across North America with wind energy. The impact of this deal is significant, and not only for our operational renewable energy commitments—it enables the development of a brand new wind farm in a province that has one of the most carbon-intensive energy grids in North America. We're creating clean energy in an area that really needs it.
Now, the energy from our wind farm won't directly power our home offices, but it will counteract emissions from all home offices by adding an equivalent amount of green electricity to the energy grid. A clean grid is essential for a net-zero future, and is especially important to power energy-intensive direct air capture (DAC) carbon removal, which Shopify is funding as a key solution to reverse climate change.
Shopify is receiving 30,000MWh annually from Berkshire Hathaway Energy Canada's 130 megawatt Rattlesnake Ridge Wind Power Project, southwest of Medicine Hat, Alberta. The facility is expected to come online as early as May 2022, and produce enough energy to supply 78,000 homes.
"Shopify is rethinking everything about the way we work, and that includes getting creative with how we power our employees' home office spaces with renewable energy," said Stacy Kauk, Director of Shopify's Sustainability Fund. "This PPA is a huge win-win-win for our employees, our company, and our planet. We hope this will serve as a blueprint for other organizations to make meaningful contributions that help decarbonize the global electricity grid."
With a distributed workforce in 18+ countries across the globe, Shopify continues to purchase separate renewable energy certificates for employee home offices in all other regions globally.
PPAs are the gold standard method for companies looking to drive the global transition to clean energy. These agreements provide price certainty for renewable energy developers, which in turn helps those developers secure project financing to build their projects and get more clean electricity online. Historically, PPAs have been inaccessible to companies with relatively small electricity footprints. To combat this, Shopify worked alongside the Royal Bank of Canada and Bullfrog Power to stack demand, purchasing a combined total of 90,000MWh annually.
To learn more about Shopify's Sustainability Fund and our climate commitments, visit shopify.com/environment.