Shopify Beta Launches World's First Global Entrepreneurship Index
May 16, 2023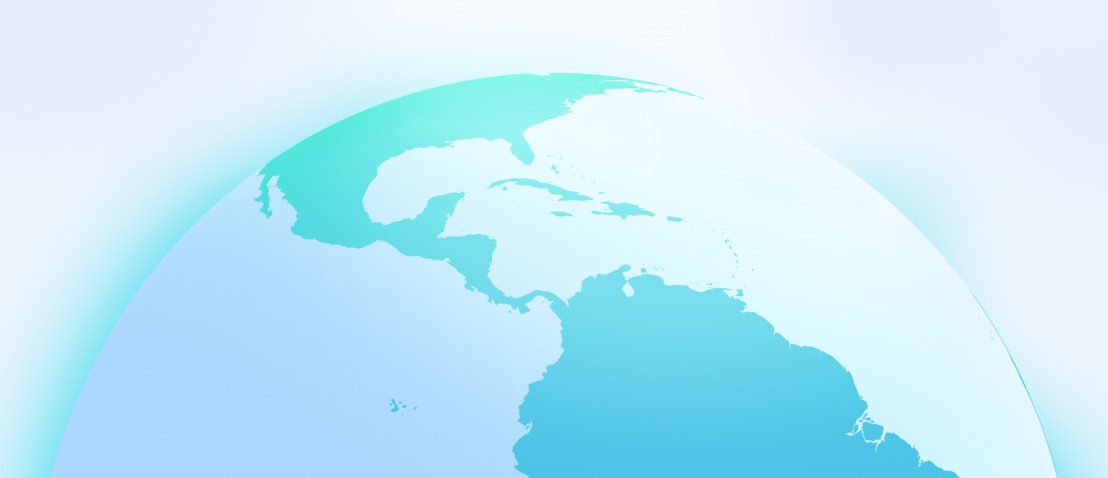 U.S., Lithuania, & Romania Rank Top 3; Delaware #1 U.S. State
We often talk about the power of entrepreneurship. But just how powerful is it? What impact does it have on economies? And what environments are providing entrepreneurs the best chances of success? There's never been one place to go for all the answers to these questions. Now there is.
Today, we're beta launching the Shopify Entrepreneurship Index: the world's first home for data and insights on global entrepreneurship across 40 countries and all U.S. states.
Shopify powers millions of businesses globally, providing the data and network needed to build something that did not previously exist: a comprehensive dataset on entrepreneurship around the world.
The Shopify Entrepreneurship Index measures the economic impact of entrepreneurs in Shopify's ecosystem on national economies, tracking the fastest growth and greatest contributions. Today's launch is the beta version of this Index—we're just getting started. In the future, we'll add even more data aimed to inspire smart policies and give leaders the insights they need to harness the power of entrepreneurship. We'll continue to update this Index quarterly.
In 2022, Shopify entrepreneurs:
Supported 5.2 million jobs (+8.3% from 2021)

Generated $27.7 billion of exports (+7%)

Contributed $229.3 billion to GDP (+8.8%)

Created $490.5 billion in economic activity (+8.6%)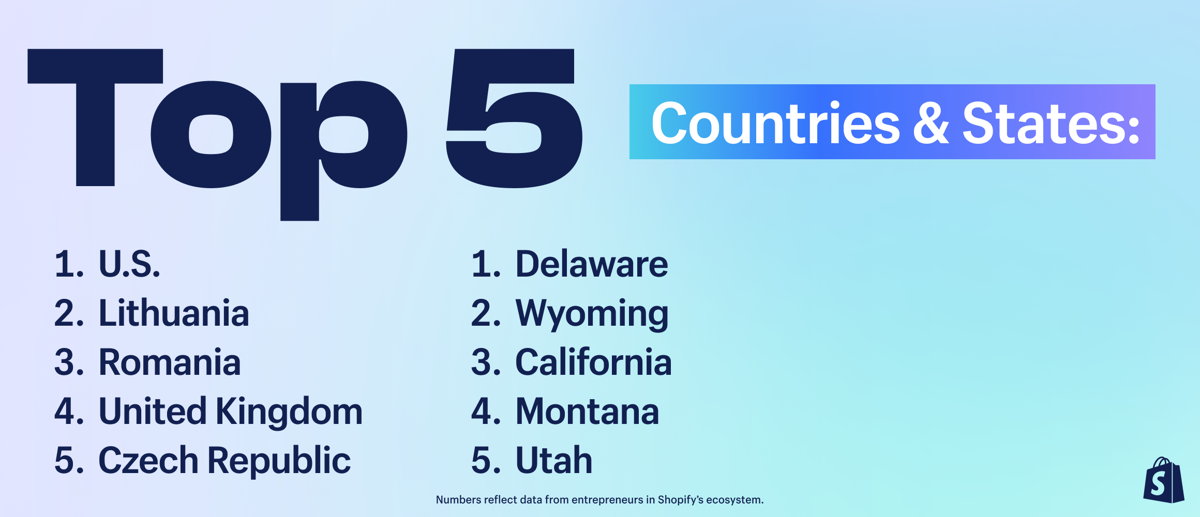 Leading the Index was the U.S., which saw an 11% increase in total jobs supported* since 2021. Delaware was the top-ranked state, Wyoming came in second, and California ranked number three.
Countries in Eastern Europe earned second and third place globally. Lithuania's #2 position is a testament to the country's investment in financial literacy, entrepreneurship, and new technologies that keep its businesses competitive globally. In third place, Romania saw a huge rise in ecommerce following an increasing digital transformation of the country.
Japan emerged as Asia's entrepreneurship engine, earning 10th place on the Index. Much of Japan's growth comes from its government's focus on cross-border trade and improving the funding environment for small businesses. Read on to learn more about these findings.
"Entrepreneurs are the fuel that drives economies forward. They create jobs. They anchor communities. They make an impact that goes far beyond their own business," said Harley Finkelstein, President of Shopify. "Previously, there wasn't enough public data showcasing the superpowers and impact of entrepreneurship—and that's why we're launching the Shopify Entrepreneurship Index. Our goal is to give decision makers the insights they need to reduce barriers and make entrepreneurship even more accessible to everyone."
"This new report will be a valuable resource for a wide range of stakeholders, including academics, policymakers, and business leaders who are seeking data on the rising phenomenon of digitally-enabled entrepreneurs," said Dr. Gary Dushnitsky, Associate Professor of Strategy and Entrepreneurship at London Business School. "This initiative serves many benefits. The quarterly cadence of release is particularly important, as it reflects the dynamic nature of entrepreneurship. It will further allow for the tracking of trends over time, providing important insights into the state of entrepreneurs."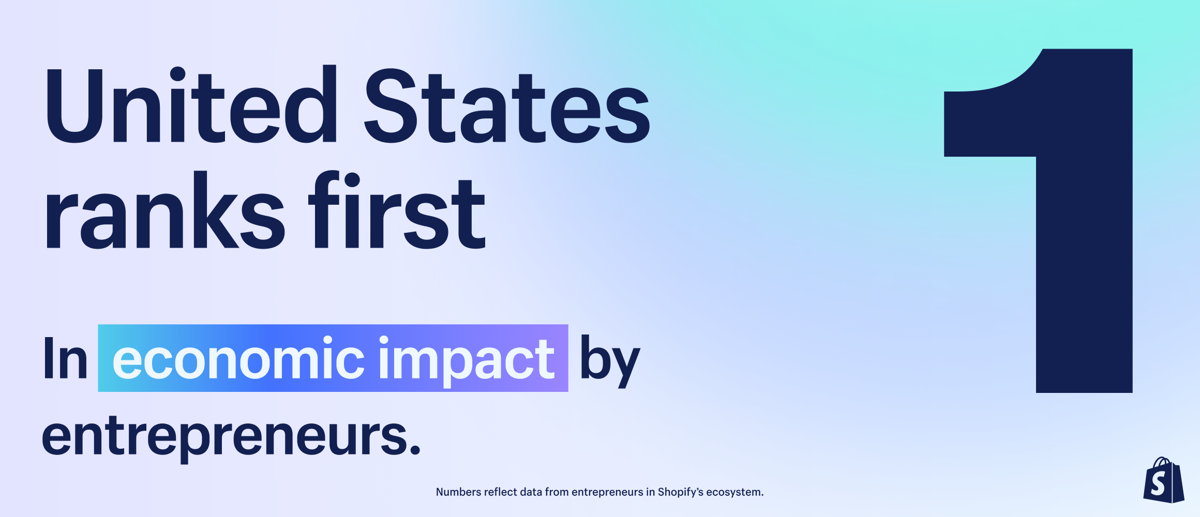 Entrepreneurship rising in the U.S.
The Shopify Entrepreneurship Index found a significant increase in the U.S. across multiple categories. Total jobs supported, GDP impact, and business activity each increased by 11%, thanks in part to increases in consumer spending, investments, and exports.
The Mountain West is the top region in the Index, making up five of the top ten states. Jobs across the south are surging, and export growth is exploding in South Dakota (336%), Montana (135.5%), and Nevada (109%).
California, Texas, New York, and Florida are juggernauts for entrepreneurial success. California leads the U.S. in direct jobs created** (134,024), total jobs supported (235,237), GDP contributions ($26.6 billion), and global exports ($2.5 billion), with New York and Florida following in second and third.
Rural entrepreneurship is especially strong: the Index shows nearly one third of Shopify entrepreneurs are building their businesses outside major cities, taking advantage of lower costs of living and government incentives offered by some states.
Entrepreneurship in Eastern Europe is outperforming Western Europe
Despite the uncertain macroeconomic environment and the war in Ukraine, European entrepreneurship has proven resilient. Three Eastern European countries earned spots in the Index's top ten ranking: Lithuania (#2), Romania (#3), and the Czech Republic (#5). This shows that the Shopify entrepreneurial landscape in Europe has traveled from the West to the East.
Ranked second globally, Lithuania's booming ecommerce sector grew 14% between 2020 and 2021, and is projected by the International Trade Administration to grow at a rate of 5% annually over the coming years.
Japan emerges as a power player
Ranked tenth in the world, Japan's impact is up across every metric we measured. Business activity has increased by 24%, jobs supported are up 24%, and GDP impact is up 23%.
As APAC continues to grow as a hub for entrepreneurship (representing four of the Index's top ten countries), Japan is an entrepreneurial country to watch thanks to its pro-business agenda, its government's focus on cross-border opportunities (with exports up 30%), and its improved funding environment for small and medium-sized businesses.
Methodology
To calculate the Shopify Entrepreneurship Index, we worked with Deloitte to calculate the GDP impact, business activity impact, jobs supported, and exports generated by millions of entrepreneurs in our ecosystem over the last year.
To create our rankings, we compared that impact to national values for each country and state, using public data from the International Monetary Fund (IMF), the Organization for Economic Cooperation and Development (OECD), the International Labour Organization (ILO), and government statistical agencies. Read more about our methodology.
We'll update the Index each quarter with new data and analysis to offer a comprehensive and ever-evolving benchmark of global entrepreneurship.
Explore full results and rankings from the Shopify Entrepreneurship Index, and sign up for updates, more data, and insights you can't find anywhere else.
All stats attributable to the Shopify Entrepreneurship Index and Deloitte.
---
* "Total jobs supported" refers to the number of jobs that are supported or sustained by merchants who use Shopify's platform to sell goods and services. This includes merchants' jobs, the jobs of their suppliers, and the jobs that are supported or sustained by the spending of increased household income resulting from entrepreneurial activity. In other words, it takes into account the entire network of jobs that are supported by the economic activity generated by Shopify's merchants.
** "Direct jobs created" refers to the number of people who are employed by merchants as well as self-employed merchants. It represents the number of jobs that are directly attributable to the presence and activities of Shopify's merchants.