Introducing Shopcodes: QR Codes That Make Mobile Shopping a Breeze
September 12, 2017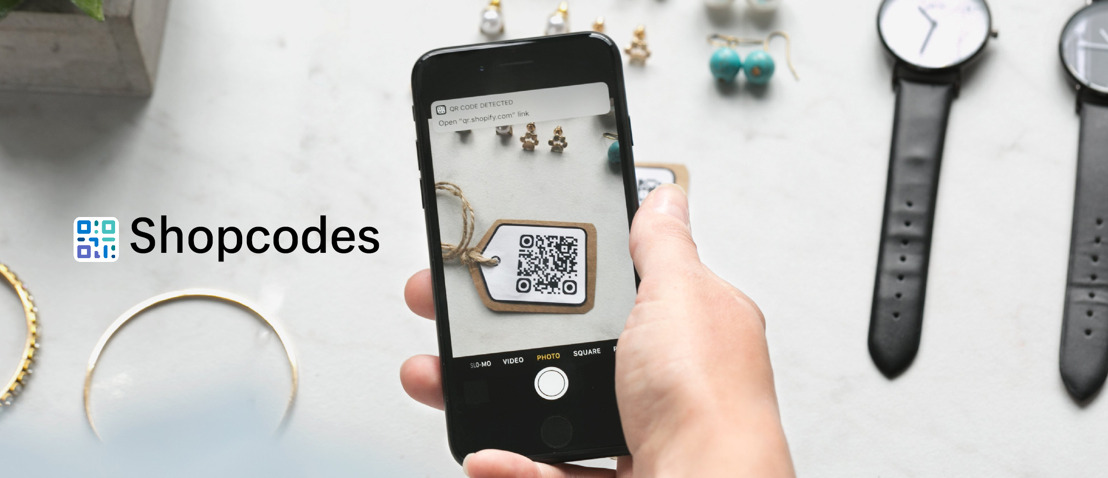 You've seen them everywhere: cryptic square barcodes that look like gibberish to us, but a computer would read as a link, a location, or whatever information is encoded into them.
QR codes have evolved a lot since their invention in 1994 to their current position as a mechanism of mobile commerce, powered by Android and iPhone devices. And now with the newly announced iOS 11 update, you will be able to scan them with the native camera app.
That's why today we're introducing Shopcodes: QR codes that consumers can scan to take them directly to a product in your Shopify store.
You can generate Shopcodes with the new Shopcodes app, which you can download for free in the App Store.
How do Shopcode work?
Shopcodes can only be generated within Shopify stores, and unlike traditional QR codes, they're exclusively for shopping. Plus, each one is unique and trackable, so you can see where traffic and sales are coming from in your Shopify Analytics dashboard.
Simply install the free Shopcodes app, and you can start creating Shopcodes that direct customers to a product page or directly to checkout when scanned. You can even attach discounts to Shopcodes so customers can scan to save instantly.
Once created, you can download a .PNG or .SVG file of the unique Shopcode that you can incorporate into your marketing in a variety of ways.
Add Shopcodes to Your Product Packaging
By incorporating Shopcodes into your product packaging, offline shoppers can scan them to learn more about your products.
You can also encourage existing customers to make repeat purchases by scanning them to go directly to checkout on mobile with all the accelerated checkout options available on mobile devices, such as Apple Pay and Shop Pay.
You can even attach a special discount code to your Shopcodes to reward your current customers for their loyalty.
Use Shopcodes at Events, Pop-Ups, and in Your Retail Store
Customers can quickly purchase or learn more about a product wherever they find a Shopcode offline.
Displaying a Shopcode on the windows of your retail store lets you sell even when your doors are closed to customers by directing them to your Shopify store instead.
Running an event or pop-up where inventory space is limited? Get customers to scan and purchase through a Shopcode instead to have their order delivered to their door.
With Shopcodes, you can encourage mobile shopping anywhere offline without having to keep your inventory on hand.
Incorporate Shopcodes in Package Inserts, Offline Ads, and More
Shopcodes can also be used wherever you advertise offline.
Promote other products, partnerships, or discounts with packaging inserts, posters, and other offline marketing materials.
Instead of manually typing in your website's URL on their mobile devices, shoppers can be taken directly to the product in your Shopify store instantly.
Mobile Shopping Just Got Easier
Shopcodes bring the ease of using QR codes to the way we conduct commerce offline.
The Shopcodes app is free for all Shopify merchants. Install it through the Shopify App Store to start generating and using Shopcodes today.
Add Shopcodes to your store now or learn more about Shopcodes in the Shopify Help Center.