Introducing Shopify Audiences: the marketing tool independent merchants need now
May 10, 2022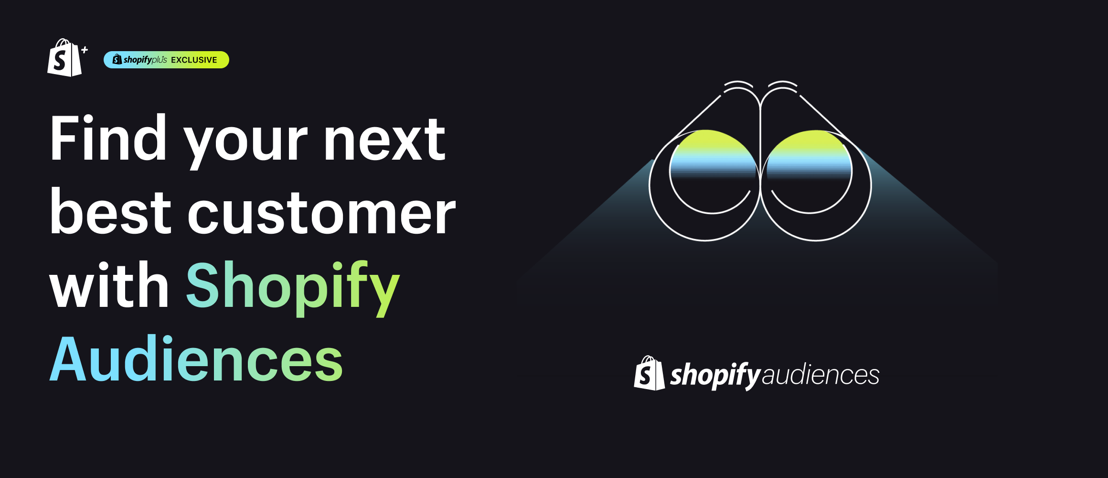 Shopify Audiences taps the collective power of our platform so merchants can reach new customers more effectively
Shopify Audiences uses our platform to help merchants find new customers who have high intent to purchase their products

At launch, Shopify Plus merchants can sync Shopify Audiences with Facebook and Instagram and will later extend to platforms such as TikTok, Snap, Pinterest, Microsoft Advertising, Criteo, and others

Many early access merchants using Shopify Audiences have seen an increase in conversion rates and return on ad spend (ROAS)
---
Entrepreneurs and independent businesses are the backbone of economies. On Shopify alone, merchants generated nearly $444B in economic impact in 2021 and supported more than 5 million jobs. That's why we take our mission so seriously.
We believe in giving entrepreneurs a fighting chance, and we use our platform for the collective benefit of Shopify merchants. You've seen this from us before with products like Shopify Capital and Shopify Shipping. Now, as digital marketing, once the primary growth engine for independent brands, has become increasingly difficult and expensive, we're helping to solve our merchants' biggest pain point: finding new customers.
Today, we're officially launching our not-so-best-kept-secret: Shopify Audiences.
Tapping the combined power of Shopify merchants, Shopify Audiences uses our platform to create high-purchase-intent audiences. Shopify Plus merchants can use Shopify Audiences with their advertising networks of choice. At launch, this includes Facebook and Instagram and will later extend to platforms such as TikTok, Snap, Pinterest, Microsoft Advertising, Criteo, and others.
Shopify Audiences leverages our unique perspective on purchasing intent from supporting merchants and their buyers. This not only removes complexity for merchants finding prospective customers, but gives them a more precise audience building tool based on proven intent at a time they need it most. Merchants simply select the product they want to sell more of, machine learning builds an audience of high-intent buyers tailored per merchant, and the audience is directly and securely exported to their ad network of choice.
Once merchants have found new customers, accurately measuring attribution is key. Shopify Audiences gives merchants a unique and granular look at results through audience-level measurement, rather than campaign. Having a transparent attribution model is essential so that merchants can have a high degree of trust about what marketing tactics are driving conversion and deploy their spend accordingly.
"We know that independent merchants may have to pay twice as much to find a new customer as they did a year ago. In fact, one merchant told us their customer acquisition cost climbed 80% over the last year," said Kaz Nejatian, VP of Product at Shopify. "We've also seen merchants' return on ad spend drop, reflecting the growing difficulty of using digital marketing to find new buyers. That's why we're launching Shopify Audiences to fix it—without compromising privacy standards."
Shopify Audiences has been available to Shopify Plus merchants in early access since late 2021. Many early access merchants using Shopify Audiences have seen an increase in conversion rates and ROAS.
"With the growing difficulty of finding new customers, Shopify Audiences has been key to getting our campaign performance back to where we need it to be," said Chase Waters, Director of Digital Marketing at BlenderBottle. "We have loved creating high-intent audiences and have really seen our targeting and performance improve, with return on ad spend as high as 6x. It's now a key part of our advertising strategy."
Shopify Audiences is rolling out today with support for Facebook and Instagram ads. It is available to eligible Plus merchants in the US and Canada. Visit here to get started.