Introducing Shopify Editions: 100+ product releases for the next era of commerce
June 22, 2022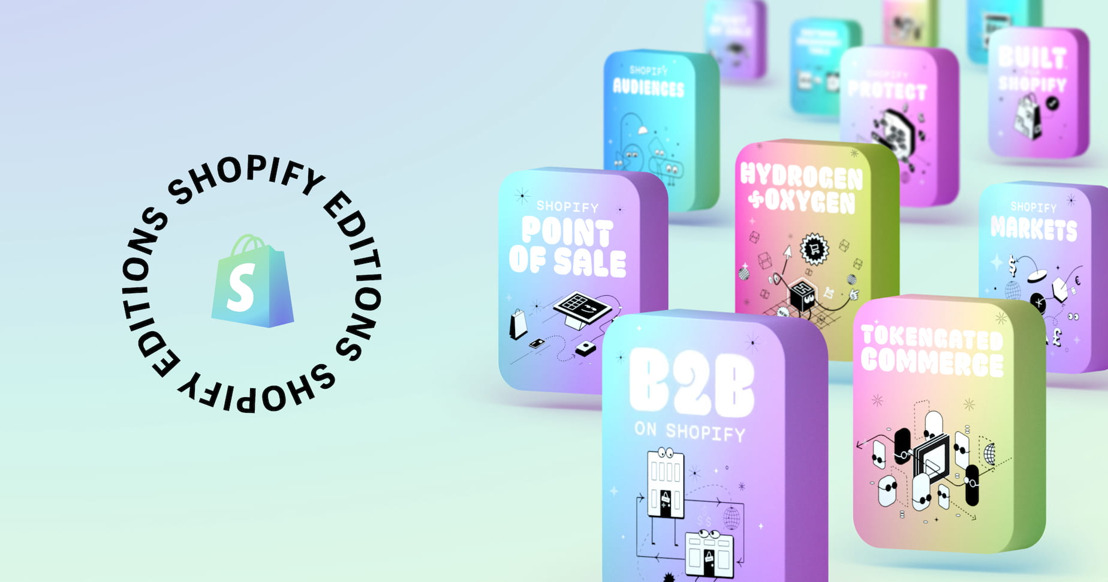 Our first Edition highlights new and improved features across our platform, giving merchants more ways to connect to consumers than ever before.
Shopify Editions is our new semi-annual showcase demonstrating the speed and breadth of innovation at Shopify to bring merchants into the future.

With 100+ new updates and launches, Shopify is powering a radically different model of commerce: Connect to Consumer (C2C).

To help merchants embrace C2C, we're unveiling an entirely new B2B offering, launching Tokengated Commerce, partnering with Google to help consumers shop local, bringing commerce to Twitter, launching Tap to Pay on iPhone—just to name a few.
---
Paths to success as a retail entrepreneur were once few and far between. The options were as obvious as they were limited: open a physical store or sell through a marketplace. The process was costly and attainable only to the few. But Shopify was born to break down barriers for merchants and make the seemingly impossible possible. With our first product—the Online Store—we made entrepreneurship accessible to all. This internet-native approach gave rise to the global D2C phenomenon and disrupted online shopping as we know it. And we're about to change the face of commerce—again.
Today, we're unveiling Shopify Editions, our new semi-annual product showcase that features new launches and improvements across the entire platform. With our Summer '22 Edition, we're ushering in an era of commerce that's more expansive than ever—and we're calling it Connect-to-Consumer (C2C).
Shopify pioneered the D2C movement by giving entrepreneurs a direct line to consumers. Today, we're paving endless pathways for merchants to build their businesses. With 100+ product updates, our Summer '22 Edition signals the speed of innovation, as well as the breadth and depth of what we've developed across online storefronts, offline experiences, Web3, social commerce, checkout, and much, much more.
"At Shopify, we believe in the infinite game. That means we're constantly pushing the boundaries of what's possible for entrepreneurs," said Tobi Lütke, Founder & CEO of Shopify. "We work hard to solve the complex challenges merchants face today while imagining entirely new ways for them to grow their businesses. With Shopify Editions, we're sharing our big bets and latest innovations in commerce so that those ambitious enough to try their hand at entrepreneurship can start and scale faster than ever before."
From selling wholesale to taking advantage of social commerce, strengthening community and expanding offline, here's a snapshot of some of our new releases from all of the exciting products featured in Shopify Editions.
B2B on Shopify
Unlocking a massive market opportunity for independent merchants
Connecting to consumers isn't just something that happens one-to-one. A world of opportunity exists when merchants connect with other businesses to sell wholesale. How big is that opportunity? Billions of untapped revenue and multiple times that of D2C*. That's why we're introducing B2B on Shopify.
B2B on Shopify makes it seamless for Shopify Plus merchants to sell to other businesses on the same platform that they use for D2C. Say goodbye to spreadsheets, one-off invoices, and manual data entry. Not to mention, we're also partnering with ERP providers such as NetSuite, Brightpearl, and Acumatica to automatically integrate merchants' essential data with our B2B solution.
For a merchant's wholesale customers, B2B on Shopify provides a similar online store experience that we know consumers love, but optimized for business buyers with tools that make it simple to purchase products in bulk. For example, we've developed a checkout with the payment flexibility needed for B2B, so merchants can set customer-specific prices at fixed rates or discounted retail prices for all of their products.
It's the Shopify everyone knows and loves, but tailor-fit for wholesale.
Tokengated commerce
Reimagining community commerce with NFTs
Everyone's talking about NFTs these days. We believe the most exciting experience isn't selling NFTs, but activating them. Enter: Tokengated commerce on Shopify.
Shopify merchants have already built passionate communities and loyal fans of their brand. It's one of the best things about being an entrepreneur. Now, tokengated commerce offers a fundamentally new way to deepen those connections, and reward true fans and VIPs, by giving NFT holders exclusive access to products, perks, and experiences. For these consumers-turned-fans, all they need to do is connect their crypto wallets to a Shopify online store, and they can use their NFTs to unlock exciting experiences. Best of all, merchants will be able to activate Shopify tokengated commerce experiences everywhere—from online to mobile to physical retail through POS.
And it doesn't stop there. Tokengated commerce can also be multiplayer. One brand can gate its storefront to a collaborating brand's NFT holders, opening opportunities for brands to invite each other to a shared experience. Through tokengated commerce, we're accelerating community commerce, inviting crossover, and introducing customers to their favorite brands they haven't met yet, all while delighting them in the process. Think of tokengated commerce as the way to pass the vibe check in the C2C era.
Tokengated commerce for the online store is now available to all Shopify merchants around the world.
Twitter Shopping
Turning conversations into commerce
Sometimes, a brand's biggest audience is the one they haven't tapped. Twitter's hundreds of millions of users represent potential connections for independent merchants, and that's why Shopify is the first commerce platform to partner with Twitter as it continues to scale its Twitter Shopping ecosystem. In fact, shopping-related Tweets saw 40-billion impressions over the last year alone.*
Using Shopify's new Twitter sales channel, merchants can reach consumers directly from their Twitter profiles, creating a frictionless path to purchase in today's digital townsquare. Social commerce continues to be a growing opportunity for merchants. Orders placed with Shopify merchants through partner integrations quadrupled YoY in the first quarter of 2022.
Twitter's shopping features include Twitter Shops and Shop Spotlight, and, starting today, both are available for free to all Shopify U.S. merchants selling to U.S. consumers.
"The Twitter sales channel makes it quicker and easier to meet our customers wherever they are," said Jessica Stevens, Senior Social Media Manager at Trixie Cosmetics. "The automatic syncing is going to help us save so much time, and the sales channel allows me to easily connect the two platforms that we already tap into to sell products and engage with customers."
We'll also take this moment to share that any platform looking to build shopping into their experience can use the APIs and documentation available in Marketplace Kit, Shopify's suite of tools for creating commerce integrations on the internet.
*Twitter Internal Data, 2022
Tap to Pay on iPhone
Making offline commerce easier than ever
With Shopify's offline GMV growing nearly 80% year over year in Q1 2022, we know in-person shopping is coming back in a big way—and we're here for it.
That's why we're one of the first commerce platforms to launch Tap to Pay on iPhone in the U.S. in partnership with Stripe. Currently in early access with select Shopify point-of-sale merchants, Tap to Pay on iPhone will be fully available in the U.S. in the coming months.
With Tap to Pay on iPhone, we're lowering the barrier to entry for Shopify merchants to expand into offline retail for the first time without needing extra hardware or investment. Think farmers markets, new pop-up experiences, test shops for established merchants to expand to new physical locations. Enabling Tap to Pay on iPhone will broaden the possibilities in offline commerce, giving merchants who haven't yet tried in-person selling an easy way to connect with customers IRL.
Local Inventory on Google
Turning browsers into local buyers
We know that nearly all U.S. consumers have searched for local businesses online, with more than a third searching multiple times every week.*
We're about to improve those searches in a big way with local inventory sync on Google, available through Shopify's Google channel. Now, Shopify merchants can automatically let nearby customers know when a product is available in store. Shopping local has never been more convenient.
Local inventory sync on Google is globally available via Shopify's Google channel to merchants using Shopify's point-of-sale app.
*Frequency of online searches for local businesses according to consumers in the United States as of November 2021
Shopify Functions
A radical step forward for building commerce experiences on Shopify
It's often the things we don't see that deliver the real magic. Shopify Functions proves just that. For the first time, we're allowing developers to extend or replace Shopify's backend logic with custom code. With Functions, developers can now create out-of-the-box Shopify features to tailor commerce experiences like never before.
This is a game-changer because merchants and developers can now have it all: Functions creates the flexibility of an open source platform without needing to deal with any of the hosting, security, or code versioning headaches. And because the code runs on Shopify's global infrastructure, all experiences created with Functions are built to scale. That means a merchant will be able to handle the explosive traffic from internet-breaking flash sales, while still providing a checkout experience in under five milliseconds.
Starting with Discounts, Functions let developers build powerful custom offers like volume discounts (e.g., spend $100 get $20 off) or free gift with purchase. Merchants can use these alongside existing Shopify discounts, such as free shipping, without ever needing to touch a line of code.
This is just the beginning. With Functions, our goal is to make Shopify as extensible as possible. Soon, Functions will be available for payment methods and shipping options, and over time, we'll explore additional areas including customizable order routing, checkout and return validations, and shipping rates.
If Hydrogen opened Shopify's frontend to create custom storefronts, Functions unlocks the backend for developers to build unique experiences across the platform.
Functions can be developed for a single merchant or shared with millions of merchants today through the Shopify App Store, meaning developers will have even more ways to generate income with Shopify.
---
And that's just some of the new stuff. Like we mentioned, Editions is a view into everything we've built and shipped in the past six months, as well as what we're launching today. The Summer '22 Edition encompasses 100+ features and updates from across Shopify's entire platform, including:
This is only the beginning. Twice a year, we'll celebrate Shopify Editions with new and improved tools to create, customize, and scale businesses of all sizes. Every new Edition represents another play in our infinite game to make commerce better for everyone.