Listen Up: Shopify Brings Entrepreneurship to Spotify
October 20, 2021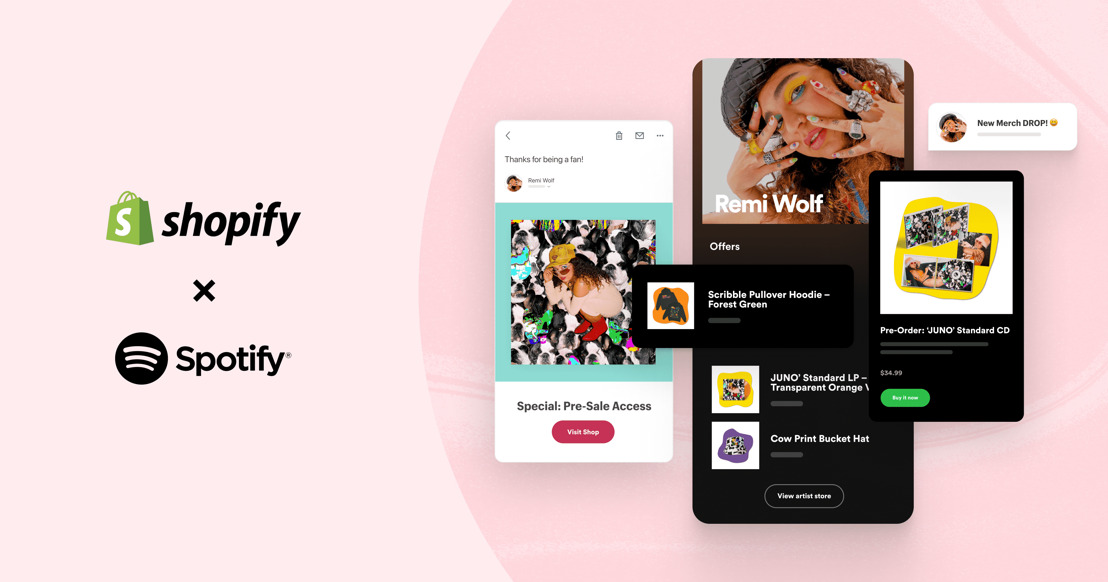 With Shopify's new Spotify channel, artists can engage listeners where they are and showcase products that expand beyond traditional merch
"Creator" is a term that has grown to encompass anyone harnessing their talent to create content and build a community. Today, the creator economy is estimated* to be approximately 50 million strong, and reportedly** worth over $100B. Through our new strategic partnership with Spotify, we're giving artists the creative freedom to expand beyond music and traditional merch to build fully realized businesses, backed by the best in audio streaming and commerce.
"With the launch of my debut album 'Juno,' being able to display my newest merch directly on Spotify where my fans are already listening is huge," said Remi Wolf, musician, producer, and entrepreneur. "I'm creating music, but I'm also building a business, a brand, and a community. My merch is another way for me to be creative and to connect with my listeners so that they feel a part of this journey."
Using Spotify, artists can introduce products to the place where listeners and fans are already engaging with their music most. By connecting their Spotify for Artists accounts with their Shopify online stores, artists can sync their product catalogues and seamlessly showcase products of their choice directly on their Spotify artist profiles, making it easy for fans to browse and purchase.
With Shopify, artist-entrepreneurs have access to an all-in-one commerce platform to manage their brands across multiple touchpoints that not only include leading social and entertainment channels and marketplaces, but now the most popular audio streaming services in the world.
"Thousands of artists already choose Shopify as their commerce platform, and now we're bringing fans and artists even closer together with the launch of the Spotify channel," said Amir Kabbara, Director of Product, Shopify. "Artists today are entrepreneurial. They're building multifaceted brands and businesses, and now we're making it easier for them to meet fans where they are. By bringing entrepreneurship to Spotify, we're empowering artists to think beyond the traditional merch table with new ways to monetize, and to experiment with their brands through commerce."
"For many fans, Spotify is the primary way they interact with an artist's music, and we are excited to give artists a new way to capitalize on that moment," said Camille Hearst, Head of Spotify for Artists. "We want to provide artists with as many resources as possible to help turn listeners into fans, fans into superfans and, ultimately, help artists earn more. The integration of Shopify's powerful backend for powering commerce presents a significant step forward in our efforts to help artists maximize additional revenue streams and give them agency over their careers."
For new artists, Shopify is an easy-to-use, all-in-one commerce platform to start, grow, and manage their brands, giving merchants access to an ecosystem of apps and services, like print-on-demand and product discovery; for artists with large followings and pre-existing businesses, Shopify's world-class infrastructure effortlessly handles high volumes of traffic, key sales moments, and highly anticipated product drops.
Today, the channel is available to artists in all markets where Spotify is available, and available to listeners in Canada, the U.S., the U.K., Australia, and New Zealand. New and existing artists can sign up for Shopify's Spotify channel using Spotify for Artists, the fan development platform used by over one million artists, managers, and labels every month.
*SignalFire, Creator Economy Market Map
​**Influencer Marketing Hub, Creator Earnings: Benchmark Report 2021