Making Money Moves: Shopify Capital Funded $2 Billion for Entrepreneurs
April 28, 2021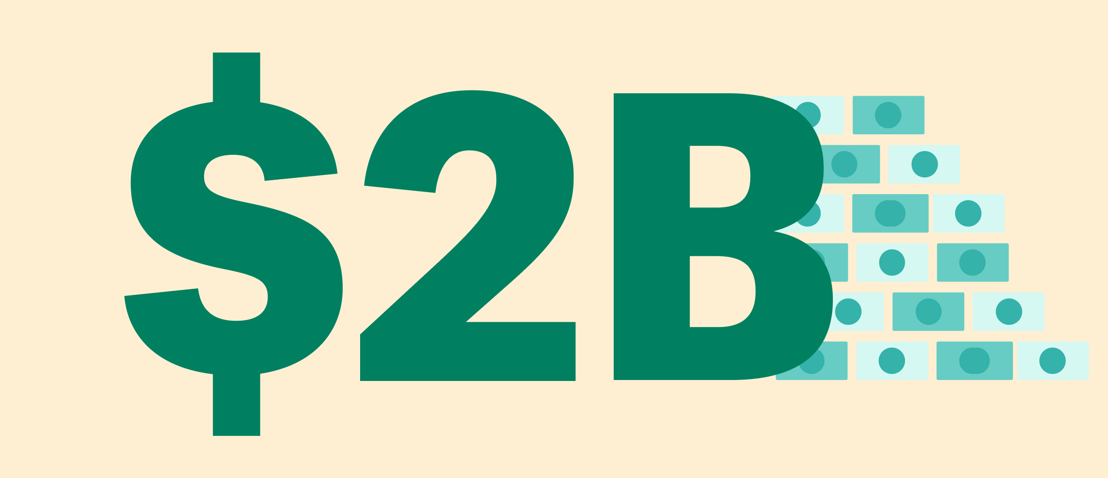 Using machine-learning models, Shopify Capital achieves high speed and accuracy
Today, we've reached an incredible milestone in our mission to remove barriers to entrepreneurship for our merchants: since launching in 2016, Shopify Capital has now provided $2 billion in funding to entrepreneurs.
Thousands of merchants in the U.S., U.K., and Canada have benefitted from cash advances and loans from Shopify Capital. This funding has been especially vital during the global pandemic, helping many of our merchants adapt and find new avenues of growth by allowing them to buy more inventory, hire talent, and launch marketing campaigns.
Previously, Shopify Capital granted funds ranging from $200 to $1 million. We're now increasing the maximum amount to $2 million to further boost the growth of our fast-scaling merchants.
Shopify Capital by the numbers
Shopify funded more capital to merchants than ever before in Q1 2021, driven by the acceleration of ecommerce. We provided over $300 million in funding to our merchants, up 90% year-on-year, and are seeing larger merchants take on larger advances.
More merchants are receiving pre-qualified funding offers. Comparing January 2020 to January 2021, the number of merchants who pre-qualified for Shopify Capital increased by 78%. The average pre-qualified amount of funding increased by 16%.
Merchants are coming back for Shopify Capital again and again. Since Shopify Capital's launch in 2016, 76% of merchants who receive Capital returned for at least one additional round of funding.
Shopify Capital helps merchants boost growth
Timely access to funding is one of the biggest challenges for entrepreneurs building businesses. Traditional lenders often require business owners to apply through lengthy and complex processes.
Enter Shopify Capital. Through state-of-the-art machine learning models, eligible merchants can automatically receive Shopify Capital offers without having to apply. Upon accepting these pre-approved offers, they can receive funding within 2-5 business days. Merchants can choose how they want to invest their funds while maintaining complete ownership of their business. Shopify Capital is also available directly through the Shopify platform, making it easy for them to manage funds in the same place where they already run their businesses.
"Today, entrepreneurs still find it challenging to get the funding they need to grow. Our goal is to remove that barrier and provide them with financial tools to help them succeed," said Kaz Nejatian, VP, Product, Merchant Services at Shopify. "By providing modern funding developed with today's small businesses in mind--and financial products that actually cater to their needs--we're levelling the playing field for our merchants."
"When I started my business, I didn't have the financial background to go to a traditional bank and ask for a loan," said Tenita Strand, founder of Status Co. Leather Studio in Daleville, Alabama. "With Shopify Capital, the sales I made spoke for themselves. As the first major source of funding for my business, Shopify Capital has opened the door to new opportunities, including expansion into new revenue streams."
"Traditional lenders want to see several years of business history and growth. But as a young, hyper-scaling business, we couldn't afford to wait," said Steven Borrelli, founder of CUTS in Culver City, California. "Shopify Capital helped us rev up our sales. We've now taken 10 rounds of funding through Capital, including a $1 million round. CUTS wouldn't have been able to grow 200% year over year without Shopify Capital, period."
Prairie Supply Co., a Canadian skateboard and snowboard shop, has also used Shopify Capital to quickly purchase inventory and hire staff, while U.K. bookshop Queer Lit has been able to invest in inventory and personalize shipping for its customers.
Machine learning drives Shopify Capital's speed and accuracy
Shopify continually improves the machine learning algorithm behind Capital, making our predictive model even smarter. To determine merchant eligibility, we take a number of factors into account, including their historical sales trends and store performance. We analyze more than 70 million data points across the Shopify platform to understand trends in merchants' growth potential. Our model allows us to predict merchants' minimum sales with 90% accuracy while helping us make more proactive, pre-qualified offers as quickly as possible.
"Machine learning is the reason we're able to get our merchants the funding they need, at the speed required to boost their business growth, at the right time," said Solmaz Shahalizadeh, VP, Data Science and Engineering, Commerce Intelligence at Shopify. "The machine learning principles behind Shopify Capital enabled us to pioneer bringing AI into production in a way that hadn't been seen in the industry before. Today, we've built upon those principles and scaled them across Shopify's portfolio of AI products."
Merchants interested in Shopify Capital can check their eligibility here.