Merchants Can Now Offer Subscriptions and Post-Purchase Upsells Directly in Shopify Checkout
November 2, 2020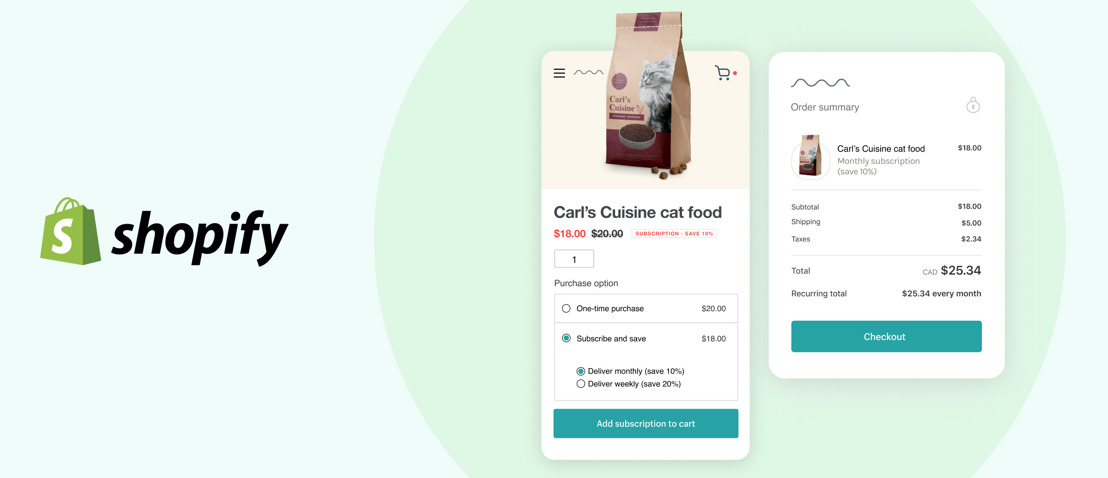 To keep pace with the rate of change in commerce, our merchants need to deliver the best shopping experience for their customers. Today, we're making this easier by announcing the release of subscription and post-purchase upsell apps that are fully integrated with Shopify Checkout for the first time.
Merchants can now seamlessly sell subscription products and offer post-purchase upsells directly in Shopify Checkout. By adding these new capabilities, Shopify is making our conversion-optimized checkout – which has been tried and tested through 2.5 billion transactions in over 175 countries – even more flexible. These new apps are also fully integrated with our back-office, meaning merchants can now manage orders and use features like Shopify Payments all within the Shopify platform.
Shopify has seen increasing demand for fully integrated subscription and upsell apps, with current apps in this category growing 61% YOY on our platform from 2019 to 2020.
Over the last year, we've worked closely with our partners to improve the overall subscription management and buyer experience. As a result, merchants can better capitalize on the ecommerce recurring payment and subscriptions market, which is projected to reach $478 billion by 2025 (up from an estimated $15 billion in 2019).
Similarly, demand for post-purchase upsell apps on Shopify has increased. By presenting offers in Shopify Checkout after payment is confirmed, merchants can offer one-click product upsells without compromising conversion and interrupting the customer experience.
"Opening Shopify Checkout for the first time is a big deal for us since it's the single most important customer experience that we've spent over a decade optimizing," said Jean-Michel Lemieux, CTO, Shopify. "With the new apps, over 1 million merchants around the world can now sell recurring products or add post-purchase upsells—all without compromising the buyer experience at checkout. Giving our developer partners the ability to build integrated solutions within checkout showcases the value we see in these apps to enable flexibility, scale and resilience for our merchants."
Historically, Shopify merchants could offer subscriptions and post-purchase upsells using apps that aren't fully integrated with the Shopify Checkout and platform. As of today, merchants can easily download these fully integrated apps from the Shopify App Store to deliver smooth buying experiences; subscription APIs are also available directly to all merchants if they want to build a custom solution. Regardless of which app merchants choose to install, their orders and customer data will be kept within Shopify. This means merchants will be able to manage all transactions in one place, gain actionable insights, and benefit from all of our platform features like shipping, discounts, and more.
The new integrated subscriptions and post-purchase upsell offerings join over 5,300 publicly available apps in the Shopify Ecosystem. They are the first of many integrated apps our partners are building in these categories in order to meet future needs of merchants and buyers.
The new apps include:
To learn more about and download the new integrated subscription and post-purchase upsell apps, visit the Shopify App Store.
About the Shopify Ecosystem
Shopify's Ecosystem is a growing community of developers and expert partners who build apps, design themes and offer services that enable Shopify merchants to more effectively run their businesses. With more than 5,300 publicly available apps, over 80% of Shopify merchants have used a third-party app to help run day-to-day operations. Shopify powers over one million businesses in more than 175 countries; and the Shopify Ecosystem is core to the platform's speed and reliability, helping entrepreneurs start, market and grow their businesses.
About Shopify
Shopify is a leading global commerce company, providing trusted tools to start, grow, market, and manage a retail business of any size. Shopify makes commerce better for everyone with a platform and services that are engineered for reliability, while delivering a better shopping experience for consumers everywhere. Headquartered in Ottawa, Canada, Shopify powers over one million businesses in more than 175 countries and is trusted by brands such as Allbirds, Gymshark, Heinz, Staples and many more.