Product news
,
Company news
Shopify hosts inaugural Shop Day with official launch of Shop Cash and more than $1,000,000 in giveaways
June 2, 2023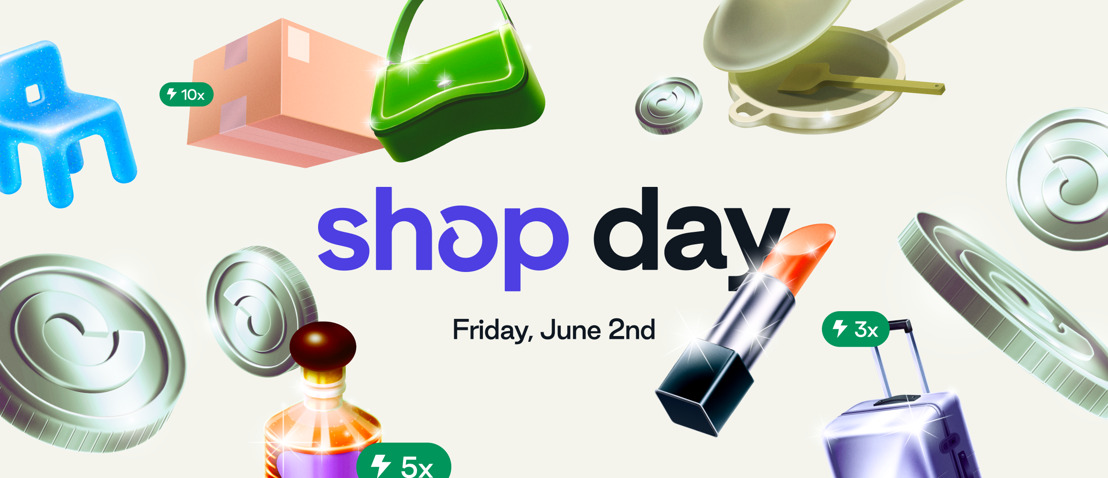 To celebrate the official launch of Shop Cash in the U.S., Shopify is hosting its inaugural Shop Day event on June 2, partnering with dozens of merchants—including MrBeast, Trixie Cosmetics, and Monday Swimwear —to give away more than $1,000,000 in Shop Cash
The rollout of Shop Cash marks a major milestone for the Shop app, which has evolved into a one-stop shopping destination trusted by tens of millions of shoppers, features items from over a million merchants, and hosts major flash sales from megastars such as MrBeast
Shoppers will now earn 1% back on eligible purchases using Shop Pay in the form of Shop Cash rewards—funded by Shopify, and redeemable exclusively in the Shop app
Discover over a million beloved brands, unlock rewards, and track your purchases all in one spot? Meet the Shop app: the most rewarding way to shop.
Today, Shopify officially launched Shop Cash: a new rewards program that earns shoppers 1% Shop Cash on purchases made using Shop Pay, the world's fastest checkout. It now pays to use Shop Pay, and it couldn't be easier. After a purchase, shoppers will see their Shop Cash rewards balance appear in their Shop app—just like magic. These rewards are redeemable on future purchases within Shop.
"This is a coming of age moment for Shop. It's become an incredible app that allows shoppers to discover great brands, check out with one tap, and track orders in real time," said Harley Finkelstein, President of Shopify. "Shop Cash represents the next evolution of Shop, connecting independent brands to more shoppers, and rewarding those shoppers for being loyal fans."
Shopify celebrates its birthday by giving back to merchants and shoppers
To celebrate the launch of Shop Cash (and Shopify's 17th birthday! 🎉), we're hosting our inaugural Shop Day on June 2—and we're giving away more than $1,000,000 in Shop Cash. To do this, we're partnering with dozens of merchants, from MrBeast to Monday Swimwear, to share custom links across their social channels to their fans. Shoppers can redeem Shop Cash by clicking on those links and spending directly in the Shop app. Their Shop Cash can be redeemed for up to 30 days once it's been claimed. Every day is a good day to shop from independent brands in the Shop app, but Shop Day is even better!
Shop Day comes hot on the heels of Shop's most prolific flash sale ever. The YouTube phenomenon MrBeast sold exclusive collectibles within an hour on his customized Shop storefront. "From flash sales with the internet's biggest creators like MrBeast through to independent retailers just getting started, Shop is the destination for commerce today," added Harley Finkelstein.
Even better, to celebrate Shop Day, hundreds of brands are running exclusive Shop Cash offers. Through Shop Cash offers, shoppers will find incentives to explore new brands and can boost their Shop Cash by 2x, 5x, and 10x. The more they spend, the more they earn. It's a win-win for everyone.
Shop Pay on Shop is a superpower for brands
We've coupled the conversion power of Shop Pay with Shop to make it easy for brands to find and retain customers. Over 100 million high-intent, high-value buyers are opted into one-click checkout with Shop Pay. It's the single most popular and trusted digital wallet on Shopify. The proof is in the data:
On the Shop app, shoppers spend more money and are more likely to come back. Every day, thousands of shoppers buy from a merchant for the first time, and 35% of the orders on the Shop app are repeat purchases.
Merchants are more likely to convert shoppers with Shop Pay. Research from one of the Big 3 consulting firms notes that Shop Pay can lift conversion by as much as 50% compared to guest checkout, outpacing other accelerated checkouts by as much as 15%.
The Shop Cash rewards program is available immediately on all eligible Shop Pay purchases from merchants and shoppers based in the US, and redeemable only in the Shop app.
To learn more about Shop and its offerings, including Shop Cash, click here.