Shop Pay—the highest-converting accelerated checkout on the internet—will be available to enterprise retailers not on Shopify
June 21, 2023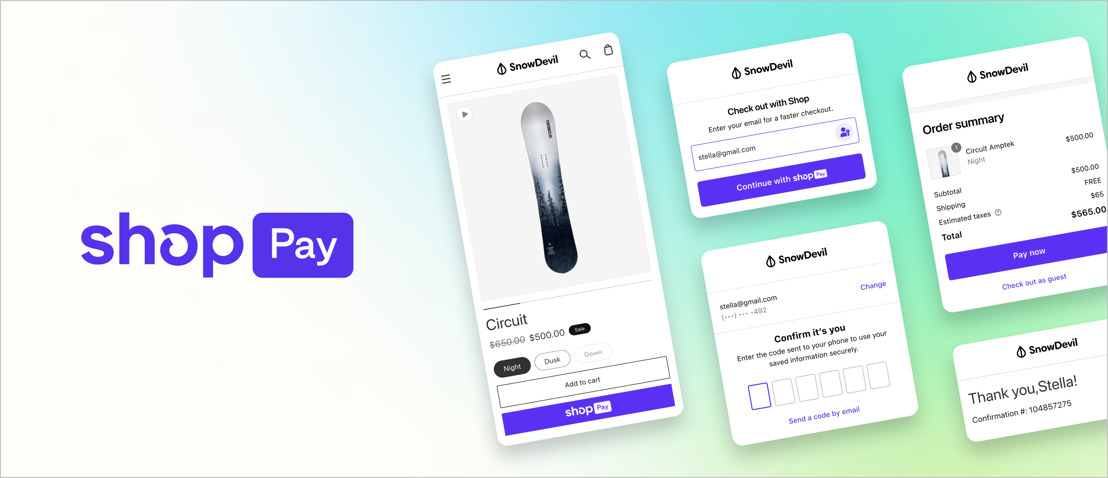 Enterprise retailers not on Shopify will have access to Shop Pay, the highest-converting accelerated checkout and its 100 million+ users.
This roll-out is made possible through Commerce Components by Shopify (CCS) which we launched earlier in 2023 to give enterprise retailers access to the same Shopify components that power 10% of U.S. ecommerce.
Separately, Shopify and Adyen will partner together to pursue enterprise clients, and enhance Adyen's existing integration to accelerate enterprise connectivity and features.
Shopify is known for helping high-growth brands disrupt the status quo, setting conversion records, and offering the world's best checkout. Enterprise retailers want access to this innovation too—which is why we've made our technology available to the biggest brands on the planet.
Shopify already powers household names like Glossier, Alo Yoga, Figs and Staples, and earlier this year, we launched Commerce Components by Shopify, giving more enterprise retailers access to the same Shopify components that power 10% of ecommerce in the U.S. Shopify keeps these retailers on the cutting edge by letting them tap into our unmatched scale while also picking the components they need to build world-class customer experiences.
And now we're unveiling our most powerful component yet.
We're giving that ✨Shop Pay conversion magic✨ to the world's biggest brands
In response to strong demand from enterprise retailers tracking the success and scale of the Shop Pay buyer network, we are opening access to our accelerated checkout to the biggest brands, even if they're not on Shopify. By turning Shop Pay into a commerce component, we're enabling enterprise customers to upgrade their customer experience without having to rip and replace all of their commerce infrastructure. For enterprises based in the US, Canada, the UK, Australia and New Zealand, that's easy access to a trusted accelerated checkout with more than 100 million high-intent, high-value buyers.
Available through Shopify Payments, Shop Pay boosts conversion by as much as 50% compared to a guest checkout, outpacing all other accelerated checkouts by at least 10%, according to a recent study by one of the Big Three consulting firms. In fact, the data shows that the mere presence of Shop Pay, even when it isn't used by a buyer, results in higher conversion by 5%.
"Enterprises that don't take advantage of Shop Pay are self-sabotaging. They are leaving money on the table," said Kaz Nejatian, VP Product and Chief Operating Officer of Shopify. "This is critical optionality in a hyper competitive retail environment. In an economy where big brands are competing more fiercely than ever to acquire customers, they need to pick and choose what they need to boost the top-line, without the compromise of a complete platform overhaul."
Why is Shop Pay so powerful? We've been able to build the world's best-converting checkout because of four key advantages: Shopify's massive identity network, unmatched scale, consumer trust, and velocity of innovation. When someone with a Shop Pay account visits an online store, Shopify recognizes them with one click. If they've used Shop Pay recently, our checkout can recognize most customers without any user action. That means Shop Pay can pre-fill all their information for a seamless one-click checkout—leading to a 4x faster experience than a guest checkout.
More enterprise payment choices with upgraded Adyen integration
For enterprise retailers, choice matters. Different businesses have different payment requirements, and that's why Shopify currently offers 1,000+ payment gateways. Adyen has been one of those gateways for years —and now we're leveling up our integration specifically for enterprise retailers.
Adyen makes it easy to accept a wide variety of payments in markets around the world, including credit cards, wallets like Apple Pay and Google Pay, international payment methods like iDEAL in the Netherlands and Cartes Bancaires in France, and more. This integration is expected to roll out later this year.