Shopify and JD.com unlock world's largest ecommerce market for merchants
January 18, 2022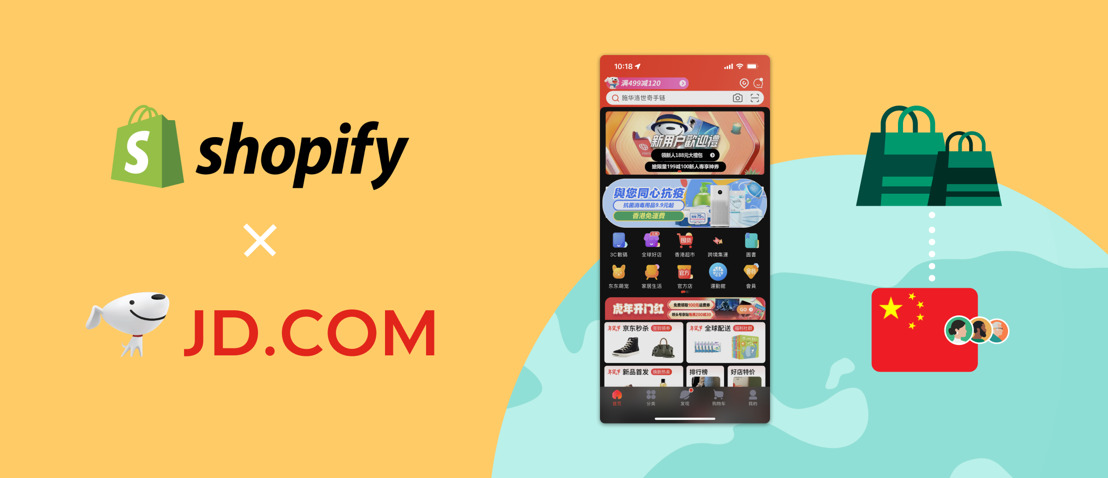 Shopify and JD.com strike strategic partnership, making it easier for US merchants to sell to consumers in China
For entrepreneurs, there are many exciting moments in the journey to celebrate: first product, first sale to a happy customer (who isn't a family member), first marketing campaign. But entrepreneurship is a daily effort—to build a brand, to expand the business, to attract even more customers. That's why we're so passionate about making it easier for independent brands to succeed, and now that success doesn't have to be limited to their town or even country. Commerce is global, and we're giving merchants, of any size, the tools to show up wherever their customers are.
With a population of 1.4 billion, China is home to the world's largest ecommerce market, estimated to be worth $3.3 trillion by 2025*—that's more than five times larger than the US ecommerce market**. In fact, over half (52%) of all retail sales in China in 2021 were predicted to come from ecommerce alone***. Despite this enormous potential, China has often remained inaccessible to independent businesses and upstart entrepreneurs abroad. Regulatory and logistical barriers, as well as complexities related to pricing, duties, and translations, can be daunting to deal with for all but the largest of brands.
A partnership between Shopify and JD.com means that we're unlocking the world's largest ecommerce market for merchants by giving them access to one of China's leading ecommerce marketplaces. By letting merchants easily list their products on JD's cross-border ecommerce platform JD Worldwide, this new sales channel opens access to JD's 550 million active customers in China who are shopping for authentic, high-quality products from brands all over the world.
"Altuzarra is excited to leverage the Shopify and JD.com partnership," said Shira Sue Carmi, CEO of Altuzarra, the namesake label of fashion designer Joseph Altuzarra. "Given Joseph's Chinese heritage and the great momentum we are seeing with our business overall, we see tremendous opportunity for Altuzarra in mainland China and are thrilled to be able to explore it easily and seamlessly through Shopify's new JD Marketplace channel."
Compared to the 12 months typically required for foreign brands to begin selling in China, JD's streamlined channel, JD Marketplace, will allow Shopify merchants in the US to get started in as quickly as three to four weeks. To support merchants in their effort to begin selling into China, the channel will provide:
Expedited onboarding to help merchants sell quickly

Logistics that handle end-to-end fulfillment from JD's US warehouses directly to consumers in China, leveraging JD.com's China-US cargo flights, 1,300+ warehouses and 200,000+ delivery personnel in China

Smart price conversion to local currency based on foreign exchange rates, typical category pricing, as well as VAT and Consumption Tax

Intelligent translation of product names and descriptions
"Bringing together two world-class commerce platforms—Shopify and JD.com—is a major step in solving cross-border commerce for merchants," said Aaron Brown, Vice President at Shopify. "The future of commerce is commerce everywhere—and that starts by removing barriers to entry to one of the most important ecommerce markets in the world."
"JD.com is thrilled to partner with Shopify," said Daniel Tan, President of JD Worldwide. "We believe that the partnership will unlock the huge potential of the Chinese market for brands outside of China. At the same time, it will increase cross-border commerce by leveraging our global supply chain abilities, simplifying what has traditionally been a very complicated process."
The JD Marketplace sales channel is part of a larger strategic partnership between Shopify and JD.com that aims to help solve cross-border commerce challenges across product sourcing, selling, and logistics for merchants in the US and China. The sales channel will be available to Shopify's US merchants starting today, January 18.
*GlobalData, Chinese ecommerce market to reach US$3.3 trillion in 2025, says GlobalData
​**Statista, Retail ecommerce revenue in the United States from 2017 to 2025
​***eMarketer, In global historic first, ecommerce in China will account for more than 50% of retail sales