Shopify and Pinterest expand partnership globally
May 7, 2020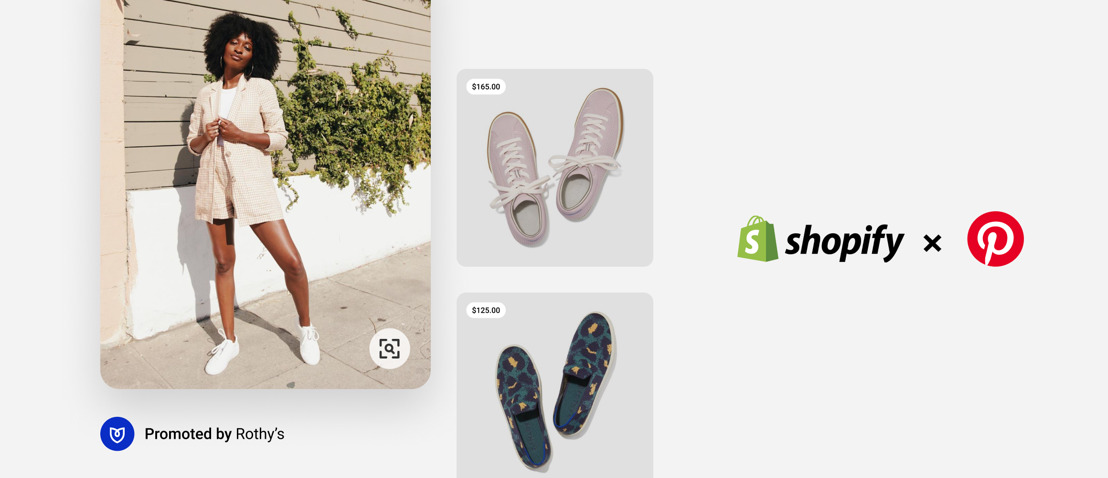 Merchants in 29 markets can now leverage the discoverability of Pinterest's 450M+ monthly users
Updated: June 1, 2022
​
​Pinterest and Shopify have expanded our partnership to Japan.
​
​Updated: April 21, 2021
We've expanded our partnership with Pinterest to 27 additional markets*. Shopify merchants across the world can now use Shopify's Pinterest channel to turn their products into Pins and tap into the reach of Pinterest's 450M+ monthly users.
Discoverability is top of mind for Shopify merchants, and social commerce presents a powerful opportunity for independent businesses to grow their audience. Shopify's 2021 Future of Commerce report found that 54% of younger consumers globally discover brands via social media. Over the last year in particular, Shopify merchants have recognized that they need to show up wherever their customers are spending time—from February 2020 to February 2021, Shopify saw installs of our social commerce channels grow 76%. With Pinterest users generally showing high purchase intent—83% of weekly Pinners have made a purchase based on content they saw from brands on Pinterest—the expansion of Shopify's Pinterest channel to 27 new markets will increase the potential for both discovery and sales for more than 1.7 million Shopify merchants worldwide.
"The future of commerce is commerce everywhere," said Lola Oyelayo-Pearson, Director of UX, Channels and Financial Services at Shopify. "At Shopify, our job is to make this possible by giving merchants the ability to market and sell in multiple places while removing the complexity of managing various channels. By expanding our partnership, merchants across the world can now access the Pinterest channel to create targeted, audience-building campaigns all without leaving Shopify."
"Integrating Pinterest with Shopify as a marketing channel has been a great awareness and audience building opportunity for us. We get significant traffic from Pinterest," said Deepica Mutyala, CEO and Founder at LIVE TINTED. "LIVE TINTED creates products that are innovative and meant to simplify your beauty routine, which makes Pinterest's audience perfect. People on Pinterest are looking for hacks and education around products and beauty routines. Being able to directly link products onto Pins makes it easy for people to learn about us through fun content, see how to use our products, and then shop seamlessly in one go."
In addition to expanding the Pinterest channel globally, we've also added dynamic retargeting ads. Merchants can now build intuitive marketing campaigns that automatically cater to individual consumers. Using the Pinterest channel, merchants can now develop and deploy marketing campaigns that target consumers in geographies outside of their own as demand for cross-border commerce grows, including the ability to create localized product feeds that target individual markets using Pinterest's new multi-feed support for catalogues.
"Pinterest is an inspiring place to shop and we're excited to expand our partnership with Shopify to help merchants in 27 more countries grow their shopping presence on Pinterest globally," said Bill Watkins, Global Head of Mid-Market and Small Business Sales at Pinterest. "Small and medium businesses in particular have the opportunity to thrive on Pinterest because they connect with consumers in a positive environment when they are early in their decision-making journey and full of purchase intent. With the retail ecosystem profoundly evolving over the past year, we're committed to supporting merchants of all sizes by providing them with a quick and easy access to our shopping features without the need to edit code or deploy resources so they can inspire consumers for what to do or buy next."
*New markets include the UK, Ireland, France, Italy, Spain, Germany, Belgium, the Netherlands, Sweden, Austria, Switzerland, Portugal, Denmark, Finland, Brazil, Greece, Hungary, Cyprus, Luxembourg, Norway, Poland, Romania, Slovakia, Czech Republic, Malta, Australia, and New Zealand.
---
May 7, 2020
Shopify and Pinterest launch new channel allowing merchants to target platform's 450M+ monthly users
It's no secret that visual discovery is an incredibly powerful tool for independent businesses to promote their brands and help shoppers find their products. Today, Pinterest is launching a new Shopify channel to make it easier for merchants to attract new customers and grow sales.
The Pinterest community has high shopping intent, with over 83% of weekly pinners having made a purchase based on a pin they liked. The new channel will allow U.S. and Canadian merchants to tap into this audience to seamlessly turn existing products from their store into "Product Pins" on Pinterest, as well as add a shop tab to their profile on Pinterest, for free organic promotion. Shopify merchants can also promote their pins as a paid ad, bringing customers directly into their brand's online store for purchase. The Pinterest channel adds to the growing list of tools already available within Shopify Marketing, making it easy for merchants to manage all of their marketing in one place within Shopify.
Pinterest has more than 350 million monthly active users turning to them for inspiration. Given that these users tend to conduct unbranded searches, Shopify's goal is to help the Pinterest community find the products and companies that inspire them. This new integration allows merchants to reach more shoppers, and helps customers discover brands they love. This is a big win in the constant quest to gain loyal customers.
We're excited to continue helping our merchants grow their businesses through this partnership. Pinterest is offering new advertisers a $100 advertising credit when they publish their first ad through Shopify! Take advantage of this and download the Pinterest channel in the Shopify App Store here.