Shopify announces multi-year initiative to transform Partner Program
February 23, 2023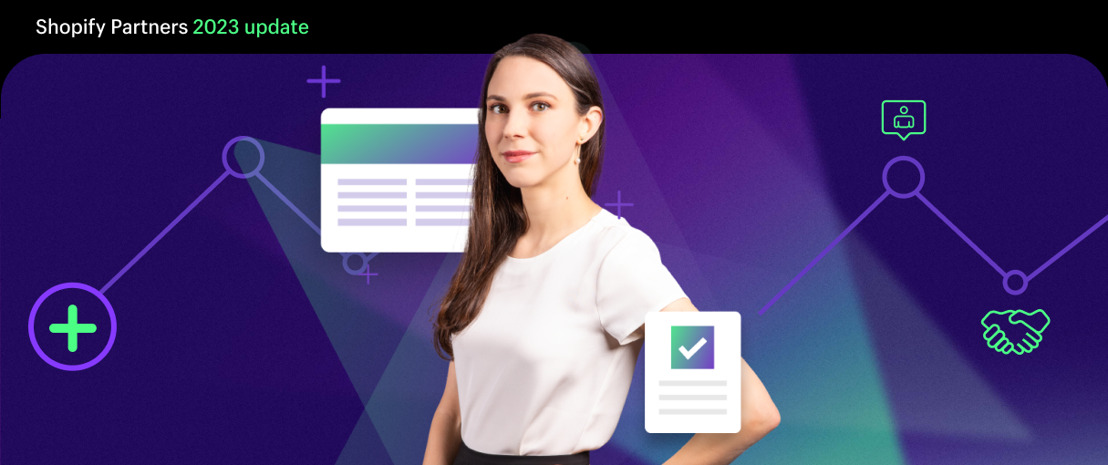 First phase helps partners earn more and upskill, and introduces new partner events
New incentives give partners the opportunity to earn up to 2x or more with multiple ways to generate revenue

Global certification program helps partners upskill and demonstrate their technical expertise

More opportunities for partners to grow their network and build with Shopify, including new partner events and simplified tools
Shopify partners play a critical role in Shopify's mission to make commerce better for everyone. Since the inception of the Shopify Partner Program over a decade ago, Shopify's partner network has become the largest commerce ecosystem in the world, a powerful community helping merchants grow faster.
As Shopify enters its next era of growth, it is launching the first phase of a multi-year engagement in Shopify's partner program. To make it easier for every partner to build their business with Shopify, the enhancements focus on three areas: exceptional rewards, skills building, and a simplified, engaging partner experience.
"Our partners are at the center of everything we do and add unparalleled value to Shopify and our merchants. That's why I couldn't be more excited about the commitment we're making to include partners in every engagement and transform the partner experience," says Bobby Morrison, Chief Revenue Officer of Shopify. "With this multi-year initiative, we're helping our partners win more business and build for the long-term."
New incentives built to accelerate partner growth
Shopify is significantly expanding program incentives to recognize and reward partners. Partners now have the opportunity to earn up to 2x or more in 2023 through revenue share and promotions from referrals to re-invest back into their business. Shopify is also focused on helping partners close more deals through joint marketing and co-selling programs.
"Shopify's investment in its Partner Program opens up immediate opportunities for us to grow our business. The partnership team has focused on building a long-term, mutually beneficial relationship with us and truly listens and responds. The new rewards and incentives are a perfect example of them responding to the voice of their partners." – Mary Krause, Strategic Alliances Manager at CQL
"The Partner Program investments are another example of what makes Shopify such an innovative company and powerful platform. The transformation of Shopify's Partner Program, particularly with more earning potential, will help fuel our growth and support our customers' goals." - Isaac Newton, Co-Founder of Pattern
Comprehensive education and enablement
Shopify continues to lead the commerce market in innovation, including the recent release of over 100+ new product updates in Winter '23 Edition. To ensure partners are equipped to bring those innovations to their clients, Shopify is launching the first-ever certification program for Shopify partners, with both business foundation and technical certifications. Shopify Certification courses and specialization badges will help partners demonstrate product expertise, and quickly upskill their teams.
"Shopify's pace of product innovation is unprecedented, and their exciting new vision for training and education will unlock more capabilities for EY teams to deepen skills faster and more efficiently," says Warren Tomlin, EY Global Shopify Alliance Leader. "Having access to these tools will accelerate the ability to help EY clients react faster, do more and exceed new consumer expectations."
Partners now have access to an expanded product and sales enablement resource library in their partner dashboard. These assets, along with ongoing live enablement webinars, are built specifically to support partners and help them grow their business.
More ways to engage with Shopify
How partners engage with Shopify and build relationships within the Shopify ecosystem will also be reimagined. Shopify has increased its focus on supporting partners' education and earnings potential with expanded virtual and in-person events starting with Partner Education Day on April 4. There will also be an in-person event this fall to celebrate and recognize top-performing commercial partners.
"Shopify's continued innovation in the program has played a crucial role in our company's success. That includes their readiness for enterprise-scale commerce, which is the foundation that enables our agency to build world-class websites for some of the largest brands on the planet. Like Shopify we're committed to constant iteration, and these updates to rewards, education and networking reflect that desire to continue learning and improving together." – Piers Thorogood, Co-Founder, We Make Websites
"At Imag/nary we invest in iconic, generationally defining brands and the technology solutions that empower them. We have loved working alongside Shopify as they have built out the partner program. The team at Shopify have always gone the extra mile to make sure our portfolio companies have the resources, platform, and attention they need to scale to their maximum potential. We're thrilled to see Shopify evolve the program and invest further in the partner experience. We are excited to deepen our relationships within this great community." – Natalie Massenet, Co-founder and Partner, Imag/nary
Building for the long term, together
Shifting consumer expectations, the rapid pace of commerce innovation, and a changing economic landscape all significantly increase the value Shopify partners add to merchants navigating constant change. This evolution of the program is designed to empower our network of development and digital marketing agencies, system integrators, technology, venture capital and private equity partners to meet the needs of merchants together.
"Our merchant needs are continuously evolving. At Shopify, we're building new tools to ensure partners have the resources to meet these needs. Together, we will help merchants navigate the next era of commerce." - Ritu Khanna, VP, Partnerships at Shopify
To stay up to date on the continued improvements to the Shopify Partner program, follow the Shopify Partner blog for updates.