Shopify Launches First Fully Remote Dev Degree Program in Partnership With Make School
June 17, 2021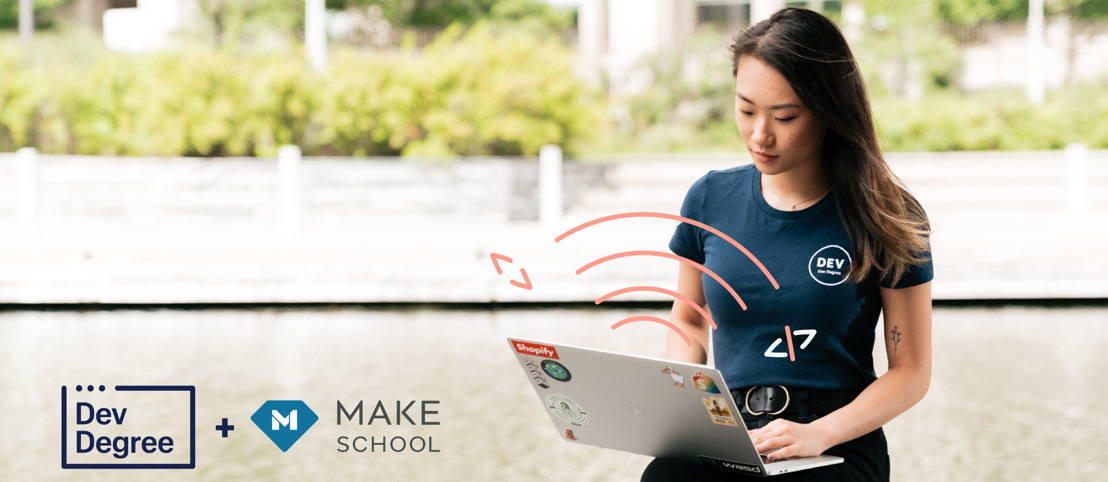 Shopify's goal is to make commerce better for everyone, and behind that mission is a dynamic team of technical talent helping to solve some of the biggest problems in commerce. We take a unique approach to investing in our employees through our work-integrated learning program, Dev Degree, which combines hands-on developer experience and an accredited Computer Science degree.
Today, we're excited to announce that Dev Degree is evolving to meet the needs of a global workforce by partnering with Make School to host the United States' first Dev Degree program, and the first fully remote program available to students across North America. Our new remote 3-year program with Make School allows aspiring software engineers living in select U.S. states and Canada to gain hands-on experience at Shopify on projects that support our 1.7 million merchants, while attending classes remotely with Make School to attain a Bachelor's Degree in Applied Computer Science.
"We're excited to open up new pathways for students to participate in the Dev Degree program through our partnership with Make School," said Alison Evans Adnani, Dev Degree Program Lead. "Shopify is removing barriers for students that were once restricted by proximity to a physical office or campus, and more importantly, creating new opportunities to contribute to a more diverse, highly skilled workforce, especially as regional barriers continue to disappear."
The program will provide new opportunities to challenge students to think critically, learn theory that can be applied to industry problems in real-time, and build impactful products using current sought-after software technologies. Make School's Dev Degree students will earn one-third of their degree credits through a project-based curriculum, which will be awarded through their work at Shopify.
"Our mission at Make School has always been to combine computer science education with real-world industry experience," said Dr. Anne Spalding, Dean and Interim President at Make School. "We meet the needs of today's employers as well as an ever-growing, diverse, global workforce. We're so excited to be partnering with Shopify's Dev Degree program to provide concrete, practical experience to our students and a strong start to their careers in tech."
Launched in 2016 in partnership with Ottawa's Carleton University, followed by Toronto's York University in 2018, Dev Degree is part of Shopify's commitment to bridging the gap between higher education and the workplace. The program now has two graduated cohorts across our Canadian partner universities, with 90% finding full-time engineering roles prior to graduation and 100% within six months, and currently has 60+ interns part of the program with an inferred gender ratio of 50%.
Dev Degree is excited to become more accessible to meet the needs of students desiring a remote-first experience. To learn more about Dev Degree's new program with Make School, visit devdegree.ca.