Shopify launches new email product globally, making it easier to reach customers during COVID-19
April 14, 2020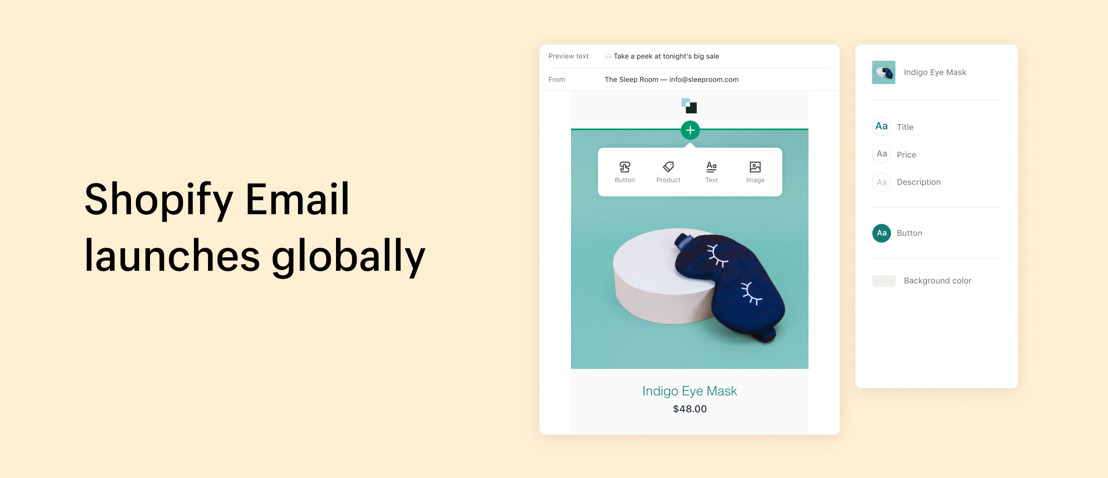 Last year we previewed Shopify Email, a new marketing tool to help merchants stand out and build meaningful customer relationships. Today, Shopify Email is available to all our merchants around the world. To further support businesses during this difficult time, Shopify Email will be free until October 1, 2020. Afterwards, the first 2,500 emails sent per month will continue to be free and merchants will pay $1 USD for every 1,000 emails they send.
"COVID-19 has forced many retailers to re-think their marketing strategies and get creative with how to reach their customers. We want to do everything we can to help these businesses thrive. As consumers spend more time online than ever before, email marketing becomes critical in preserving and building customer relationships," said Satish Kanwar, VP of Product, Shopify.
Shopify Email is email designed for commerce. Merchants can send branded emails in just a few clicks - directly from Shopify Marketing in the admin. Ready-made templates automatically pull logos, products, images, descriptions, prices, and more from their stores. Merchants can easily communicate new store updates, delivery or pickup options, and special promotions, as well as track their results in an analytics dashboard. Our goal is to make email marketing easy and accessible to businesses who are new to digital marketing.
"When I founded Bull and Cleaver with my son, our main goal was to ensure that love, family and tradition was at the heart of our product. These values are more important now than ever and we wanted to communicate them to our customers especially as they hunker down at home. We also wanted to let them know we were there for them, still fulfilling orders and delivering safely to their door. I used one of the suggested templates straight out of our Shopify store, changed some of the wording and the products I wanted to promote, and it was ready to go. No downloading and exporting databases, and the product links and buy buttons were already there. We had one of our best sales weeks ever!" said Teresa Patricio, Co-founder and Marketing Manager, Bull and Cleaver.
Shopify Email will roll out globally in over 20 languages, including English, French, German, Spanish, Portugese and Chinese. Learn how to get started with Shopify Email here and our ongoing efforts to support merchants here.