Shopify merchants support world's largest workforce, contributing 5M jobs and $444B+ in economic activity in 2021
April 28, 2022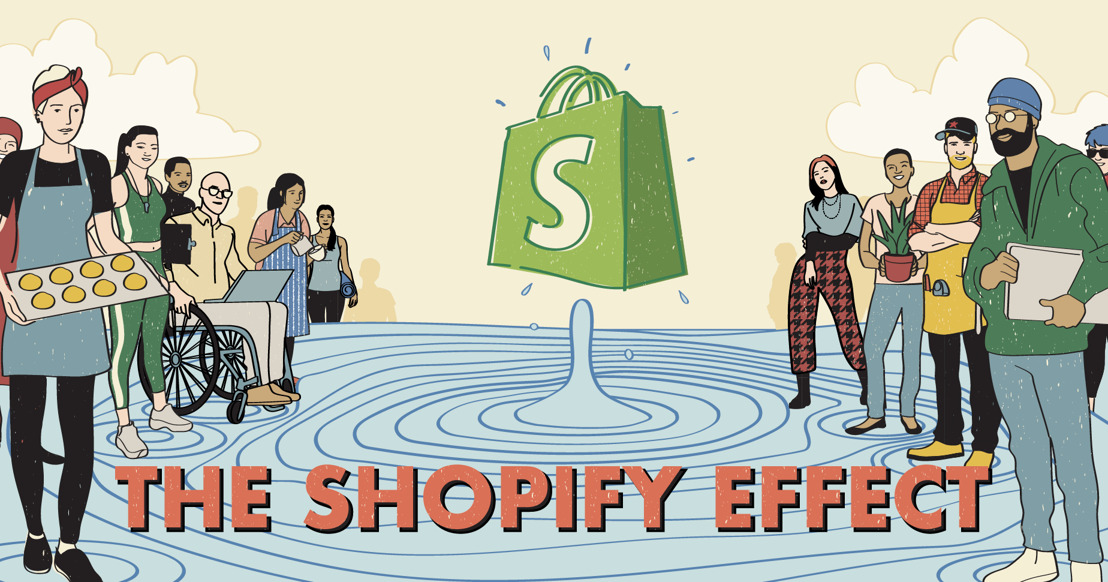 Shopify merchants supported 5 million jobs last year. Collectively, they would make up the largest workforce in the world.
Shopify merchants drove more than $444 billion in global economic activity*, a 45% increase from 2020. Altogether, that would form the world's second-largest company in revenue, surpassing Amazon, Apple, BP, and Volkswagen.
Our Partner ecosystem supported 656,000 jobs and generated $32 billion in revenue in 2021, up 45%** from the year prior. That's almost 7x Shopify's 2021 revenue; we're incredibly proud of that.
Our merchants' success remains paramount: for every $1 in revenue we generated last year, our merchants made $38.
---
At Shopify, we think the world is better with more independent businesses in it.
Every dollar you spend with an independent business has a ripple impact on the lives of the owners behind it, their local communities, families, employees, suppliers, and the world. We've seen firsthand examples of our merchants pushing their industries forward, creating job opportunities in their local community, bolstering their suppliers' business, and making our planet a better place to live.
We call this the Shopify Effect, and we set out to measure it by partnering with Deloitte, a leading global consulting firm, to get a better picture of our merchants' and partners' aggregate impact.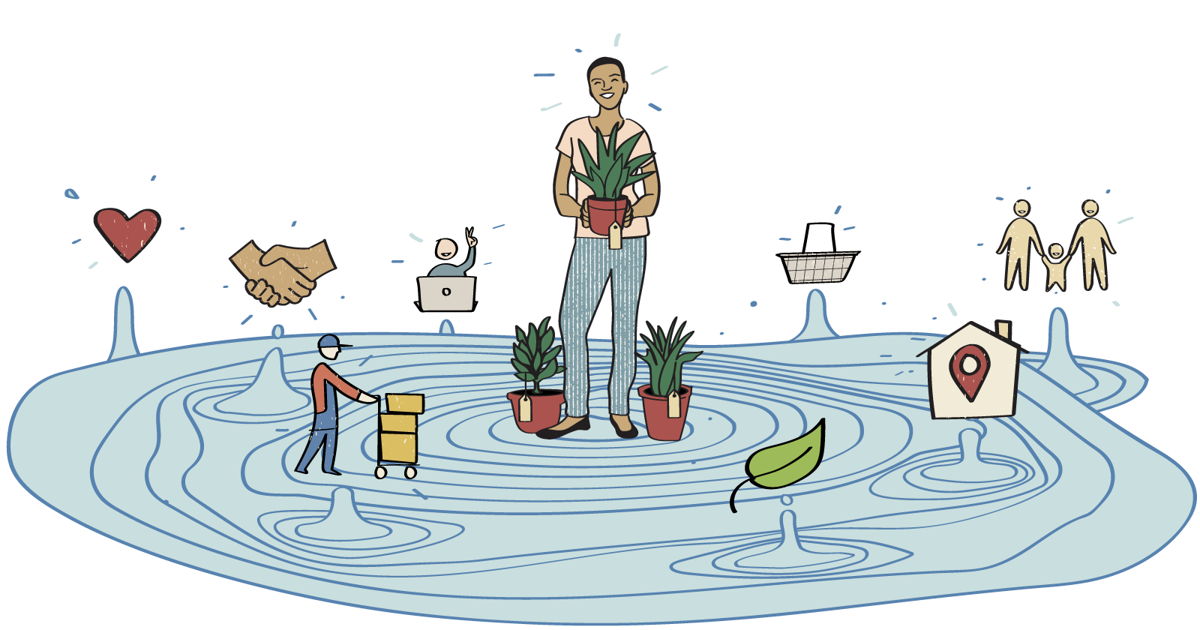 Take Nil Parra and Sophie Lauret, for example, who started Comme Avant just five years ago. The husband-and-wife duo started their new venture from their balcony, making olive oil soap—still their best selling product today—to soothe the irritated skin of their newly born son, Naël. Today, they employ 50 workers from their local community near Marseille, a city in the south of France.
Businesses powered by Shopify, like Comme Avant, supported five million jobs last year. That's enough jobs for every other person in New York City, collectively making Shopify merchants the largest employer in the world.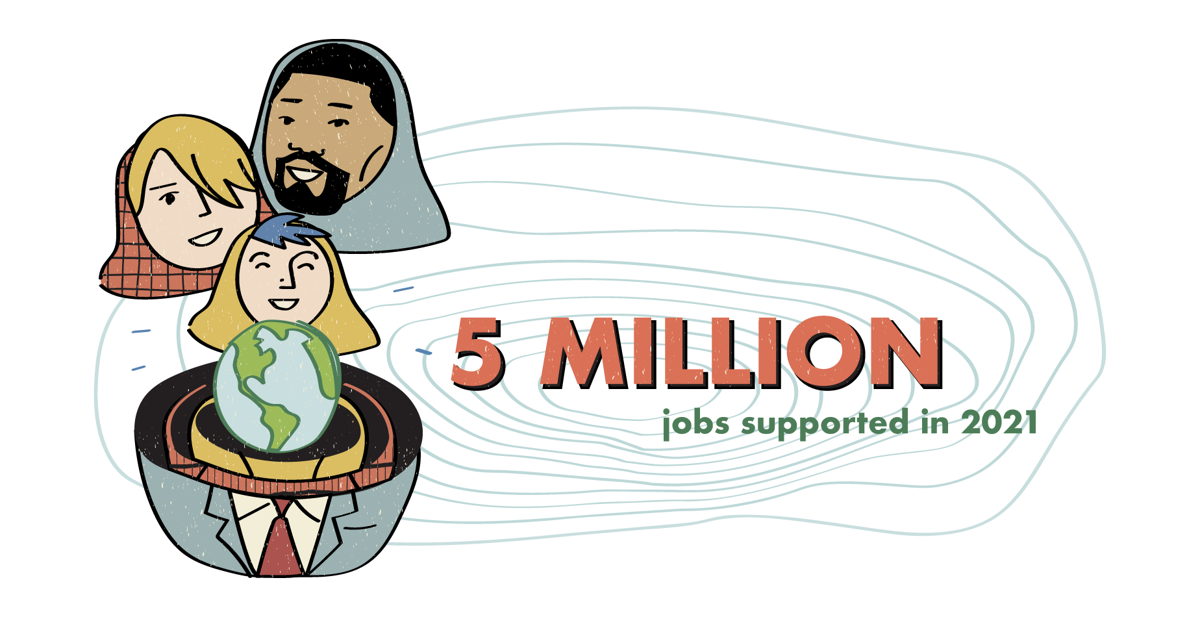 In their first year, Nil and Sophie earned around $350,000 in revenue. Last year, they brought in close to $6 million. In total, businesses like theirs drove over $444 billion in economic activity, a 45% increase from 2020. Together, these independent businesses would make up the second-largest company in the world in terms of revenue—up from 7th last year—placing them above Amazon, Apple, BP, and Volkswagen.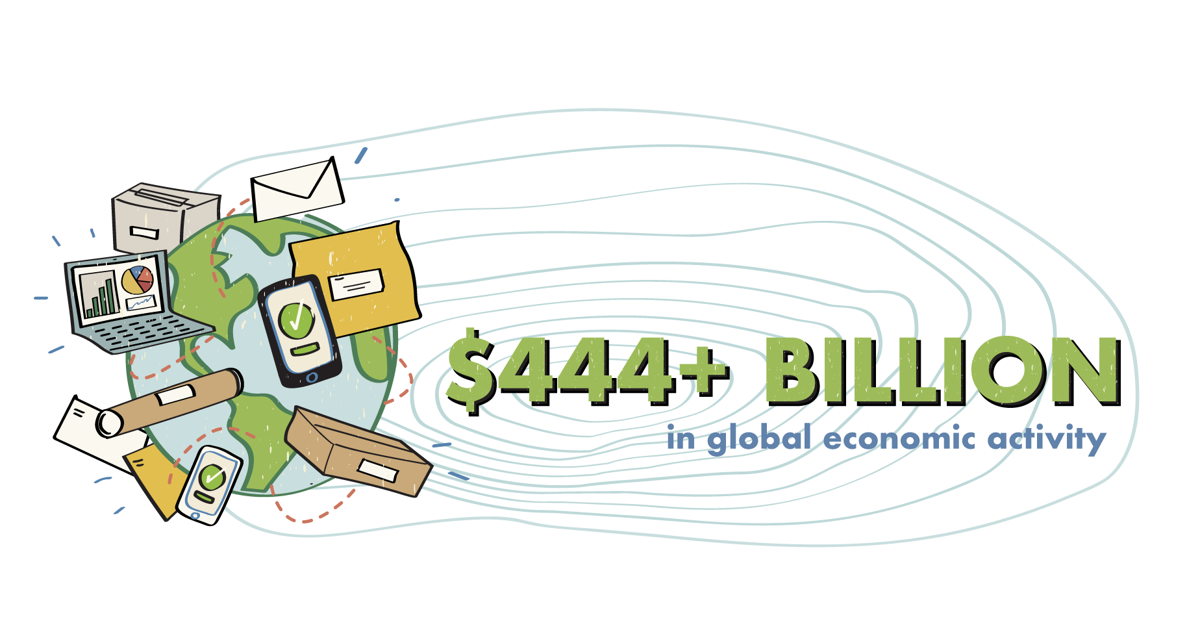 Comme Avant's beginnings may have been humble, but their ambitions weren't. Today, their team hand-manufactures hundreds of other items from shampoos to moisturizers, household cleaners, and textiles. They've outgrown that 30 square meter balcony into a 1,600 square meter production facility.
Every product is made with earth-friendly ingredients—free of preservatives, colorants, and perfumes. Nil and Sophie thoroughly vet their 50+ suppliers for ethical standards and ensure all employees are paid fairly for their work. They've also started an independent non-profit that buys and rehabilitates land so animals and plants can thrive there again. They may be considered a small business, but their impact is anything but tiny.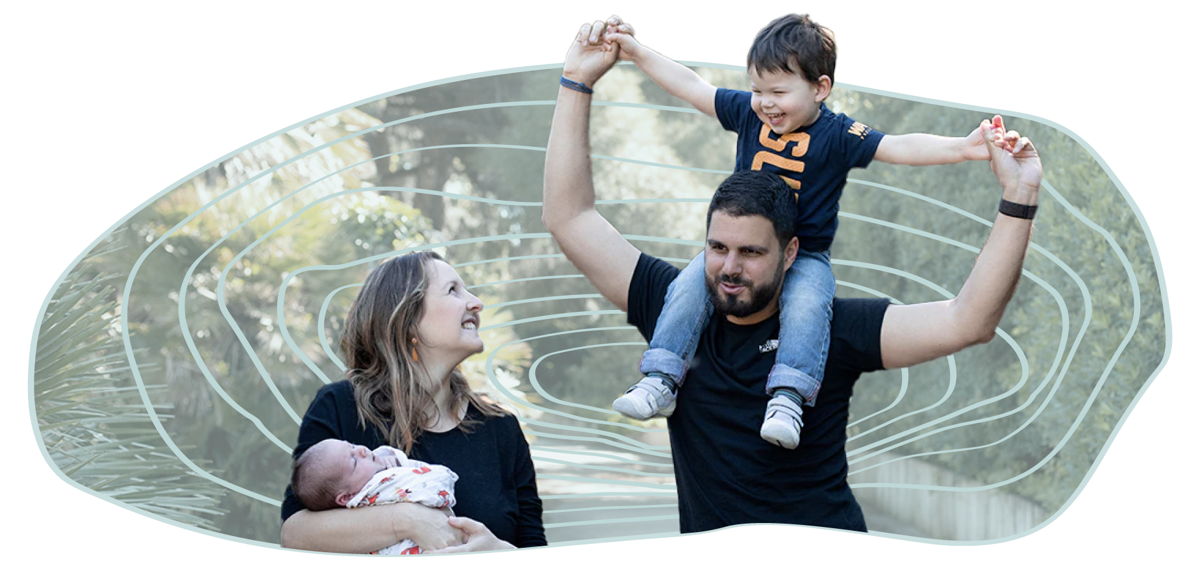 Sophie and Nil with their children, Naël and Joan
In addition to their impressive online growth, Comme Avant opened four physical locations: in Marseille, Paris, Toulouse, and Pennes-Mirabeau. Sophie and Nil felt strongly about designing them to be in line with their values. Inside, you'll find repurposed olive oil casks, wooden planks, crates, and cardboard.
Together, businesses like Comme Avant generated $38 for every $1 of revenue Shopify made last year. Empowering their success remains our focus.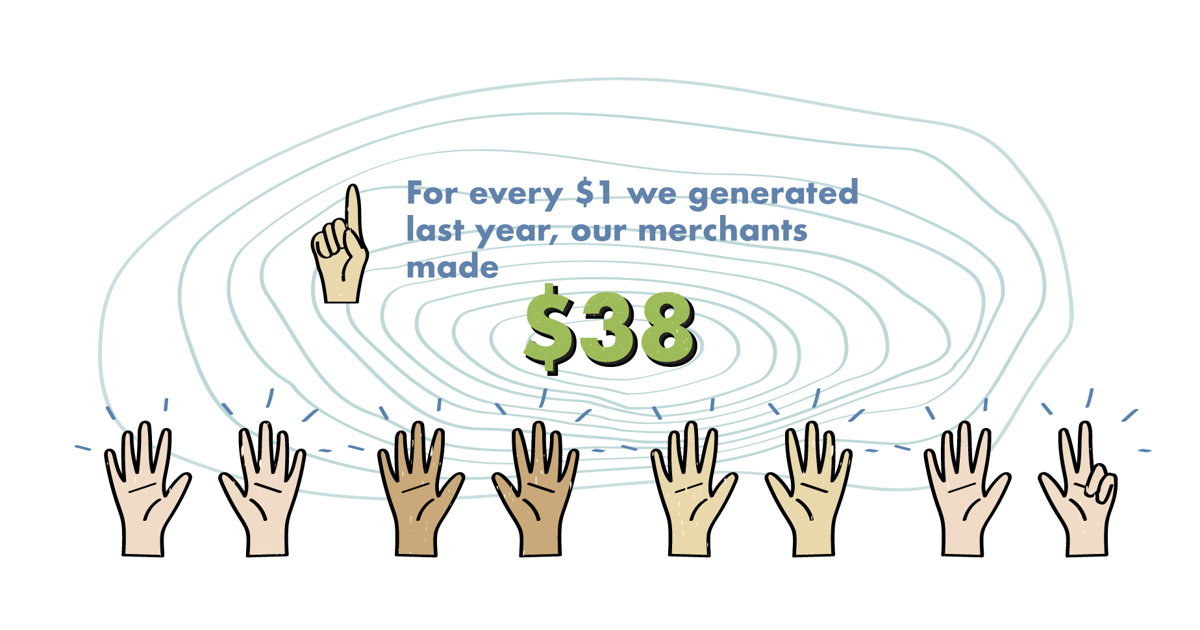 Nil and Sophie describe their business as an "atypical company; a terribly imperfect, human adventure."
They may not know it, but Nil and Sophie's business ethos is more common than they think. At Shopify, we've come across countless entrepreneurial stories like theirs through powering millions of "human adventures" on our platform—and more every day. And, while each of their stories is wholly unique, the Shopify Effect numbers help us better understand their combined impact.
Here are some other key findings from our 2021 report.
International impact:
Shopify merchants sold $25+ billion worth of goods and services outside their home country in 2021. Small businesses*** produced $11 billion of those sales—that's as much as the top 6 highest-grossing superhero films combined.
European merchants exported $4 billion worth of goods and services outside their continent, a 39% increase from 2020.
Merchants in developing nations generated $6.5+ billion in revenue in 2021, up from $5.8 billion in 2020.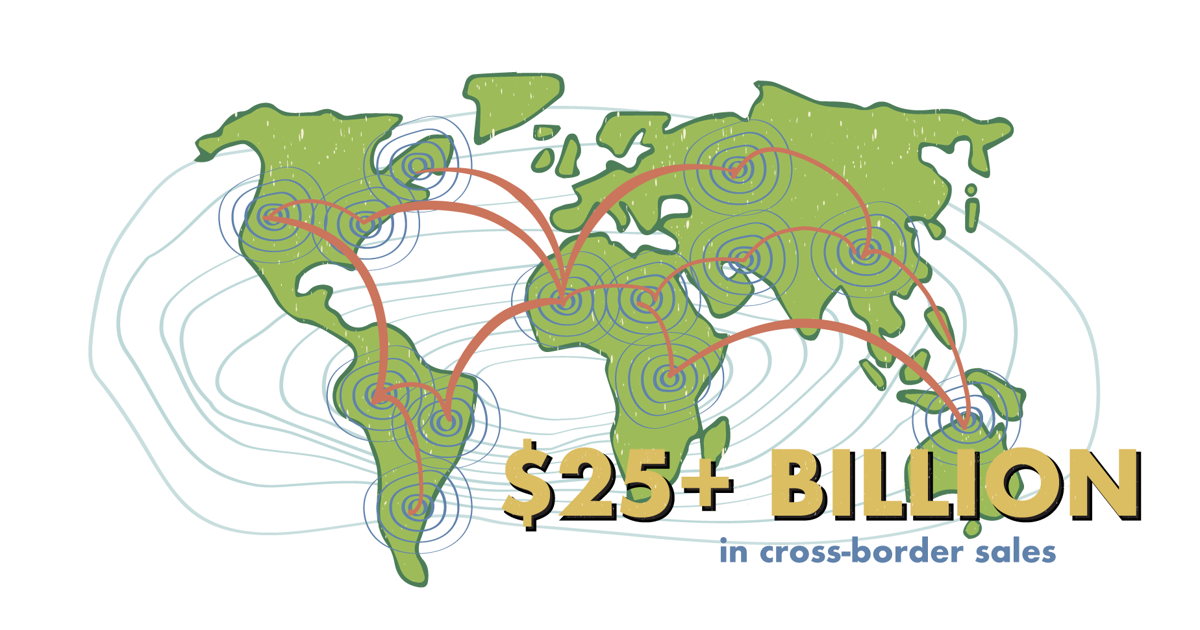 Partner ecosystem:
Shopify's Partner ecosystem—which includes developers, designers, marketers, accountants, logistics providers, and other experts who help our merchants succeed—supported 656,000 jobs and totaled $32 billion in revenue** last year.
Our Partners increased their earnings 45% from 2020, grossing nearly 7x Shopify's 2021 revenue—and we're proud of their success.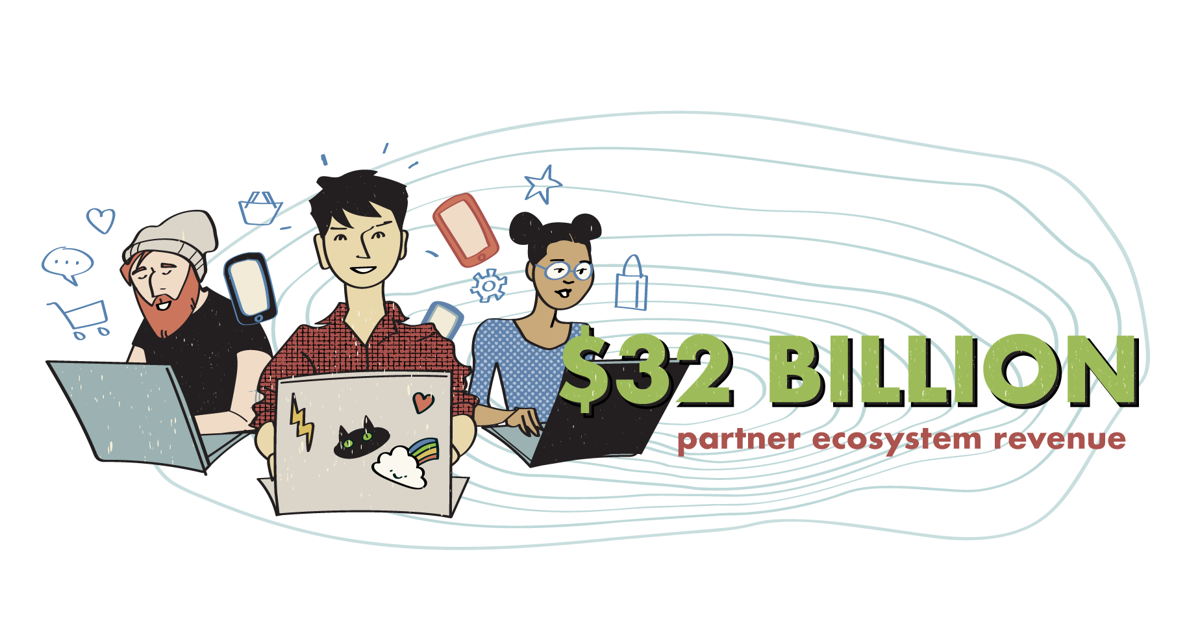 Regional and country-specific highlights:
United States: 981,000 jobs supported, contributing $239.4 billion in economic activity—that's enough to buy 486 million Coachella tickets in 2022.
Europe: 298,000 jobs and $47.6 billion in economic activity. EU-based merchants facilitated nearly 6x more economic activity than the revenue of the top 20 pro world soccer clubs in the 2020/2021 season.
United Kingdom: 197,100 jobs and $35.1 billion in economic activity. The number of jobs supported by UK-based Shopify merchants would be enough to fill the three largest soccer stadiums of the top English pro-league soccer teams in the country.
Canada: $23.8 billion in economic activity and 142,000 jobs. This level of economic activity surpasses the entire U.S. market for wheat flour in 2021, a year after the boom in bread-making.
Australia: 154,200 jobs and $29.6 billion in economic activity. If you were to distribute Australian merchants' economic activity to everyone in the country, each person would receive $1,530 AUD.
Germany: 65,100 jobs and $13.1 billion in economic activity. German merchants facilitated enough economic activity to buy 991 million Maß-sized beers at the last Oktoberfest in 2019.
France: 30,600 jobs and $6.8 billion in economic activity. If every job created by Shopify merchants was fulfilled by an adult living in France, and you stack them all up, they would stand 51,700 meters or 157 Eiffel Towers tall.
Italy: 16,000 jobs and $3.4 billion in economic activity. This is 2.5x the value of all virgin olive oil exported by Italy in 2020.
Spain: 16,300 jobs and $3 billion in economic activity. Collectively, Shopify merchants in Spain generated 1.5x more economic activity than the combined revenue of Spain's top three pro soccer teams in the 2020/2021 season.
Japan: 57,800 jobs and $6.6 billion in economic activity. Jobs supported by Japanese merchants would be enough to fill Japan's largest skyscraper's (the Tokyo Skytree) observation decks nearly 20 times.
India: 199,600 jobs and $3.4 billion in economic activity. Shopify merchants in India supported enough jobs to fill the Taj Mahal 5 times, based on its current maximum capacity of 40,000 people.
---
* Deloitte calculates global economic impact to include profit, labor income, and tax revenues. This report looks at data from our global merchant base, as well as relevant third-party data collected by Deloitte Canada. All currency is in USD.
** Our Partner revenue calculation has been expanded to include merchant spend paid to Shopify Shipping Partners. As such, 2020's Partner revenue has been adjusted accordingly for comparability.
*** In this study, small businesses are defined as Shopify merchants with less than $2.5 million in annual GMV.