Shopify Partners With Facebook to Help Businesses Launch Branded Facebook Shops
May 19, 2020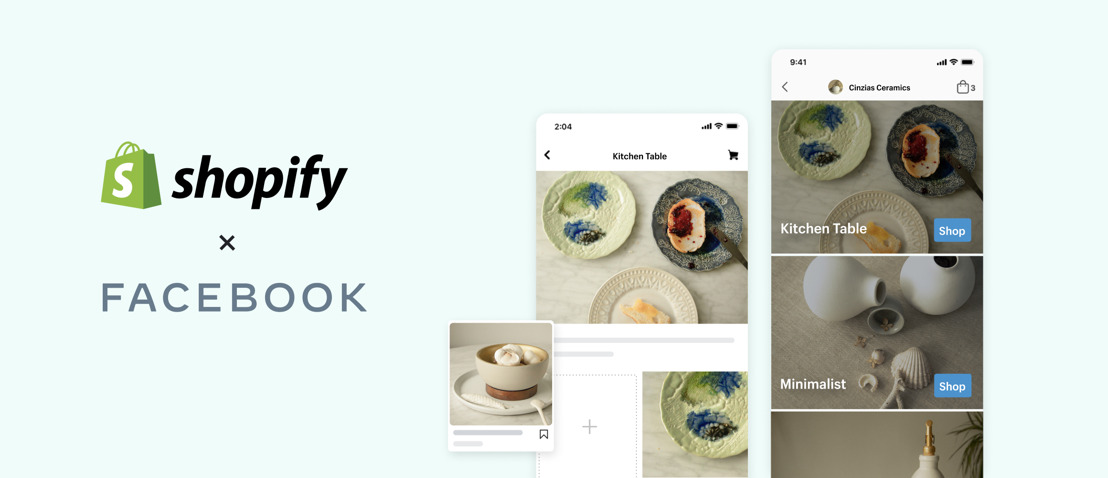 Today, we're announcing our partnership with Facebook to help businesses create Facebook Shops, a new and free tool helping merchants create a customized online storefront for Facebook and Instagram. As consumers increasingly shift to online and mobile shopping to find the products they want, tools like Facebook Shops will help merchants offer more seamless experiences and strengthen relationships with their customers.
​
​Shopify has partnered with Facebook since 2015 to provide merchants the best multi-channel commerce solution, and is one of the first commerce partners supporting this new, mobile-first shopping experience. Merchants will get control over customization and merchandising for their storefronts inside Facebook and Instagram, while managing their products, inventory, orders, and fulfillment directly from within Shopify. Consumers will be able to easily find, browse, and buy products through a purpose-built, immersive experience in these apps they use every day. Checkout will be powered by Shopify for merchants, with Shopify also offering Instagram Checkout to select merchants testing the new feature.
​
​To make it even easier for Shopify merchants to grow their businesses across Facebook's family of apps, we are also launching a new, unified Facebook channel. Merchants will be able to automatically connect their Shopify business to Facebook in one place, while making their customers' shopping experience feel native to each individual app. This new channel is available for installation today, and will continue to grow in functionality throughout the year.
"Shopify powers more than one million businesses that are transforming the direct-to-consumer landscape and changing the way we shop. With Facebook Shops, we're bringing the tech industry together to help entrepreneurs succeed at a critical time," said Tobi Lütke, CEO of Shopify. "By pairing Shopify's platform and commerce capabilities with Facebook's reach and scale, we are reducing the barriers to entrepreneurship and advancing the future of commerce."
"Shopify offers tools that entrepreneurs need to start and run their businesses, and they're helping a lot of companies move online. We're excited to work with them to help small businesses prepare for the future," said Mark Zuckerberg, Founder and CEO of Facebook.
You can watch Tobi discuss the launch of Facebook Shops with Mark here:
Facebook Shops will become available globally for all businesses across Facebook and Instagram over the coming months. Shopify merchants can get ready for this launch by setting up Shopify's Facebook channel, allowing them to connect with Facebook and customize their new Facebook Shops as soon as they become available.
Learn more about Shopify's Facebook channel and Facebook Shops here.