Shopify Purchases More Direct Air Capture (DAC) Carbon Removal Than Any Other Company
March 9, 2021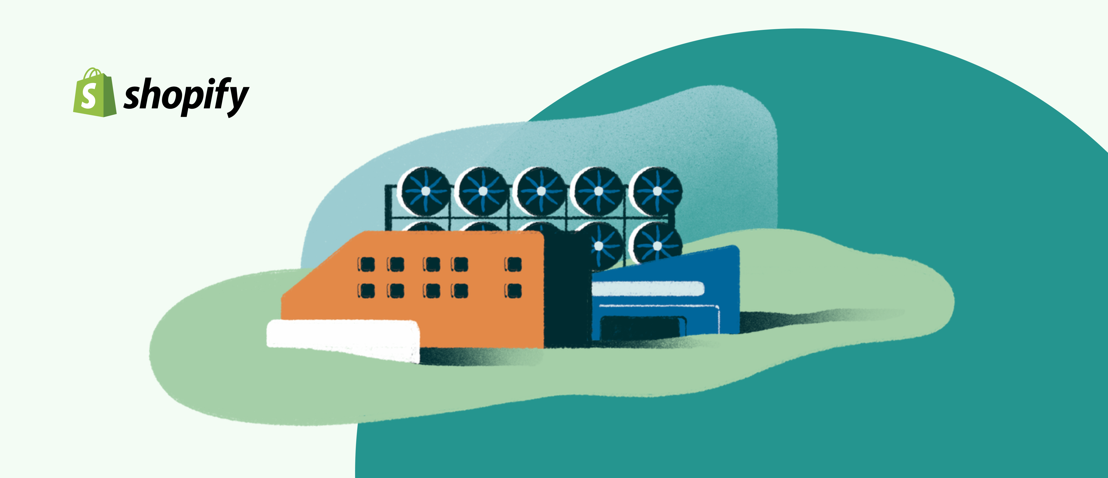 Shopify's record-level commitment reaches 15,000 tonnes of permanent carbon removal
As of today, Shopify has purchased more Direct Air Capture (DAC) carbon removal than any other company in history. This milestone comes with our agreement to purchase 10,000 tonnes of removal from Carbon Engineering, adding to a previous 5,000-tonne commitment to Climeworks.
Shopify's Sustainability Fund invests a minimum of $5 million annually to fight climate change. Our goal is to spur market demand for the highest-potential, most innovative technologies and projects we discover. One of these leading technologies is DAC, which pulls in atmospheric air and extracts carbon dioxide (CO₂) using simple chemical reactions.
Carbon Engineering's new CO₂ removal service extends DAC's impact by allowing customers to pay to safely and permanently lock away captured carbon at massive scale—a powerful tool to address the fact that there's too much carbon in the air. Carbon Engineering's US-based partner 1PointFive will deliver Shopify's carbon removal using Carbon Engineering's DAC technology. The two companies are jointly engineering their first industrial-scale facility, which is expected to be operational in 2024 and capture up to one million tonnes of CO₂ each year. Shopify has agreed to purchase 10,000 tonnes of permanent carbon dioxide removal through this service.
Previously, Shopify made a multi-year commitment to purchase 5,000 tonnes of carbon removal from Climeworks. This CO₂ will be captured from the air and then safely and permanently stored underground. Climeworks' new plant in Iceland, called Orca, will capture 4,000 tonnes of CO₂ annually once operational later this year.
With these purchases, Shopify is changing the game for DAC.
We are sending a clear market signal that buyers are looking for permanent carbon removal and that large-scale DAC technology is a key solution to solve climate change. Additionally, our purchases support the development of projects that combine DAC with standalone sequestration of atmospheric CO2, rather than enhanced oil recovery.
We are proud to lead with our 15,000-tonne removal commitment, but Shopify's effort alone is not enough. We need more buyers to follow in Shopify's footsteps, creating a trajectory for DAC that is much more impactful in the fight against climate change.
"Large-scale DAC-based carbon removal is essential to undo 200 years of burning fossil fuels," said Stacy Kauk, Director of Shopify's Sustainability Fund. "We need others to join us with purchase commitments so we can kickstart the market, scale this technology globally, and start reversing climate change."
"Climate scientists tell us that removing carbon dioxide from the atmosphere is no longer an option—it's an urgent necessity," said Steve Oldham, CEO of Carbon Engineering. "More and more leading organizations like Shopify are taking bold action and including permanent carbon removal in their sustainability toolkits. But what had been missing was a way to purchase carbon removal at large scale. Our new service provides that mechanism and makes it easy for organizations and governments to include large-scale carbon removal in their net zero plans. We're excited to offer this new product and to welcome Shopify as our first customer."
"Climeworks has been pioneering carbon dioxide removal from the air with direct air capture technology," said Christoph Gebald, co-Founder & co-CEO of Climeworks. "With our new plant Orca, we successfully demonstrated that we have been able to scale up our carbon dioxide removal capacity by an order of magnitude in 3-4 years. We are thankful for Shopify's long-term commitment enabling us to scale up the much-needed direct air capture industry."
To learn more about Shopify's Sustainability Fund and our climate commitments, visit shopify.com/environment