The Green Bag in the Big Apple: Shopify Launches Entrepreneurial Space in New York City
August 4, 2021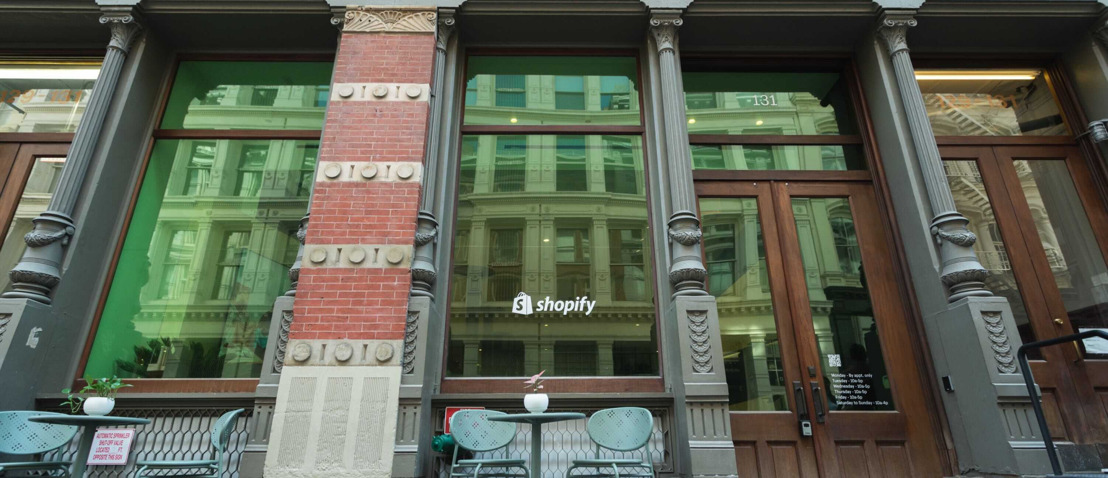 Shopify New York will support the city's small business community through workshops, one-to-one support, and resources
In the last year alone, tens of thousands of entrepreneurs in New York City have opened businesses on Shopify.
To support this vibrant entrepreneurial spirit in the city, we're excited to open Shopify New York. Now, existing and budding entrepreneurs will have a space to call their own, with the ability to attend workshops and events, get one-to-one support, book podcast and photography studio space, and sell in our pop-up shop.
Located in the heart of SoHo at 131 Greene St, Shopify New York brings to life our commitment to empower and support our merchants in this thriving community. The two-story space (~8,000 square feet) is ideal for New York's entrepreneurs to connect, build, and grow. We also welcome aspiring entrepreneurs to visit us in our new physical space to learn about how to start a business.
For every 1,000 New York City residents, four are Shopify business owners. These businesses are resilient, creative, and resourceful and they range from innovative nail studios like Paintbucket, to coffee shops like Nguyen Coffee Supply, fashion brands like CeeCee's Closet NYC, and everything in between.
"Much of NYC's heart and soul comes from its entrepreneurs," says Harley Finkelstein, Shopify President. "To keep NYC as one of the most entrepreneurial cities in the world, we're giving New Yorkers the resources and tools they need to build successful businesses. If you're a Shopify merchant, a business owner, or an aspiring entrepreneur trying to make it in NYC, make it to Shopify New York. This space is for you."
Shopify New York is a one-stop destination for entrepreneurs, featuring:
Support 1:1s: We're bringing our world-class support experts in person to offer free, 30-minute 1:1 sessions daily for founders and their employees to get all of their questions answered.
Podcast Studio: We have created a professional-grade audio- and video-recording studio for merchants to access in order to grow their business.
Photo Studio: We know that photos can make or break a brand's success, so we designed a easy-to-use photography studio that comes with professional equipment ideal for taking beautiful product shots, along with a handbook to show merchants how to bring their photos to life.
Cha Ching Café: Named after the famous sound effect that plays when merchants get a sale on their Shopify store, the coffee shop is operated by merchant Birch Coffee, visitors will be able to purchase coffee, tea, and to-go snacks.
Pop-up Shop: Our pop-up shop features several local merchant products (from Greenery Unlimited and Nguyen Coffee Supply) for visitors to purchase.
We support Shopify merchants in everything we do, so all staff uniforms are designed and produced by local merchant New York or Nowhere. The space also features a mural wall designed by local artist and merchant Naomi Otsu.
Doors will open to the public on August 5th, 2021 and will remain open six days a week to support our merchants, as well as by appointment on Mondays. We are following all local health and safety guidelines, and all staff are required to wear masks. To learn more about Shopify New York visit ny.shopify.com.