Time is money: Introducing Shopify Bill Pay
April 24, 2023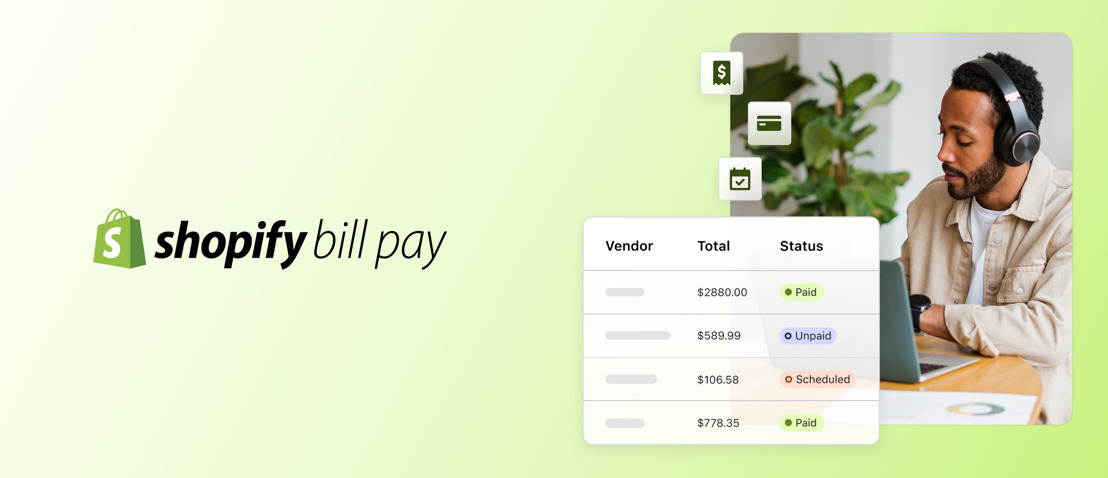 Our new tool streamlines expense management so merchants can put time back into their business
Shopify is expanding its fintech solutions offering with Shopify Bill Pay, a tool for merchants to manage and pay vendors directly in the Shopify admin dashboard with no subscription fees

Powered by Melio, Shopify Bill Pay saves merchants 16 hours a month on paying business bills, and is 2x faster than other B2B expense solutions

Through Shopify Bill Pay, Shopify continues to build a suite of embedded financial solutions that provides merchants with the robust set of financial tools they need to run and grow their business, making the most of their money
"I enjoy managing expenses," said no business owner, ever. Dealing with invoice-related tasks is tedious for any merchant. As a business grows, so do the number of methods used to pay expenses. Time is money, and reducing time spent on administrative processes such as expense management is critical to businesses building for the long-term.
Today, we're introducing Shopify Bill Pay, our newest addition to Shopify's suite of financial solutions for merchants. Shopify Bill Pay is powered by Melio, a leading B2B payments platform for small businesses, and removes friction for merchants by letting them track expenses and manage vendors without ever leaving their Shopify admin dashboard.
"Over the last few years, we've built out a robust offering of embedded fintech solutions that empower our merchants to build and sell their products," said Shruti Patel, Global Head of Merchant Services Partnerships and Monetization at Shopify. "Through our partnership with Melio, Shopify Bill Pay will give merchants more time to invest back into their business and brings us one step closer to advancing our mission of making commerce better for everyone."
Merchants using Shopify Bill Pay will benefit from these features:
Easily schedule, pay, and manage B2B payment within their Shopify admin dashboard

Preferred payment method selection (pay with credit, even if the vendor doesn't accept it)

A dedicated bill pay dashboard to filter, sort, and schedule payments—for now or the future

Email and image-based expense uploading
"We are excited to announce this unique partnership with Shopify that will simplify merchants' bill-paying experience," said Matan Bar, Melio's co-founder and CEO. "Shopify Bill Pay will bring a whole new experience to merchants who are overwhelmed by managing their inventories, preparing their stock for busy seasons, and keeping track of each vendor's payment requirements."
Shopify Bill Pay also seamlessly integrates into Shopify Balance. With Shopify Bill Pay, there are no subscription or sign up fees, and merchants can pay bills with their Shopify Balance accounts or ACH bank transfers for free. Shopify Balance complements Shopify Bill Pay by giving merchants a holistic view of their store's financial health, physical and virtual business spending cards, payment up to four days earlier than a traditional bank, cashback rewards, and access to tax tool connections merchants need, among other features.
Shopify Bill Pay is available to U.S. merchants starting today; learn more here.