Fighting climate change together: Shopify joins historic initiative to scale carbon removal globally
April 12, 2022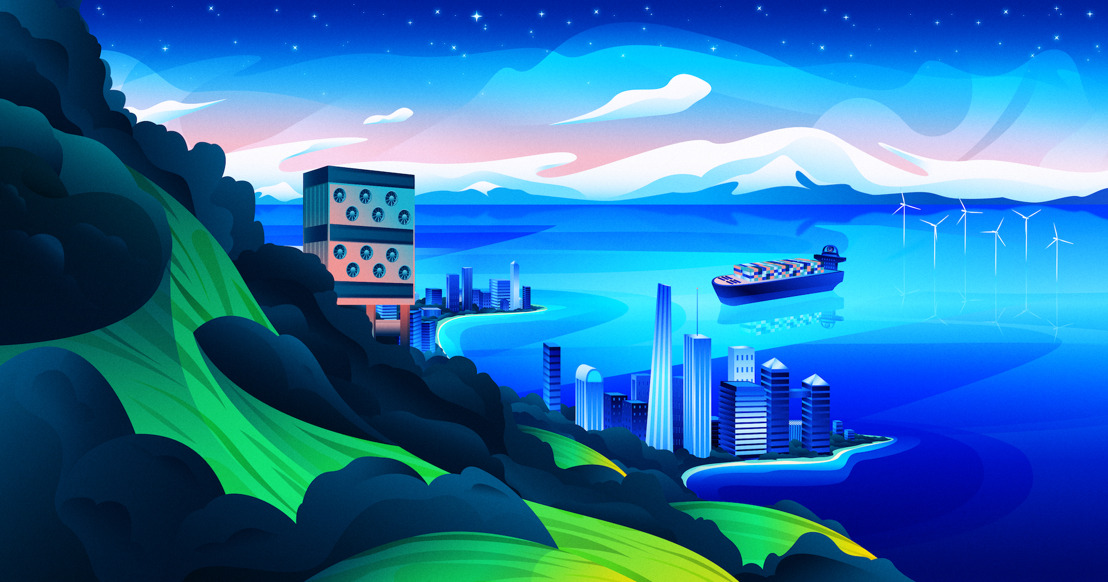 A letter from Shopify's Head of Sustainability Stacy Kauk
Shopify joins Stripe, Alphabet, Meta, and McKinsey Sustainability to launch $925M advance market commitment (AMC).

Frontier is a nine-year commitment to accelerate the development of permanent carbon removal technologies by guaranteeing future demand.

The AMC model was originally piloted for vaccine development; this is the first time the model is being applied to carbon removal at scale.
Shopify's stance on climate change has been loud and clear since introducing our Sustainability Fund in 2019: we need to fight this together. Reducing emissions is an important component of combating climate change, but even if we stopped all emissions right now, there's still too much carbon in our atmosphere. We must start working on these climate-saving technologies to protect our future.
That's why we're launching a much-needed advance market commitment (AMC) called Frontier alongside Stripe, Alphabet, Meta, and McKinsey Sustainability. The AMC model was successfully piloted a decade ago to speed up development of pneumococcal vaccines for low-income countries, saving an estimated 700,000 lives. We are the first to apply this model to carbon removal at scale.
As founders of Frontier, we plan to commit a combined initial $925M to purchase permanent carbon removal from companies building promising new solutions over the next nine years, starting in 2022. Our combined demand signal is exactly what the market needs to accelerate the development of carbon removal technologies.
As of 2021, less than 10,000 tonnes of carbon dioxide had been permanently removed from the atmosphere—one million times short of the annual scale needed. And, recent reports from the Intergovernmental Panel on Climate Change make it clear that there is currently no pathway to keeping global temperature increases within 1.5℃ without aggressively pursuing emissions reductions and permanently removing gigatons of carbon dioxide already present in the atmosphere and ocean.
This AMC is designed to give the industry, including researchers, entrepreneurs, project developers, and investors, confidence to begin building today–and to do so with urgency.
Frontier will become the world's largest combined financial commitment to buy carbon removal, and I am proud to join its Founder Advisory Board. Let me share more about how the AMC will run, and how you can get involved.
How Frontier works
Frontier is run by a dedicated team of technical and commercial experts that will conduct due diligence and facilitate carbon removal purchases on behalf of buyers:
For early-stage carbon removal suppliers piloting new technologies, buyers will enter into low-volume, pre-purchase agreements.

For growth-stage suppliers, buyers will enter into offtake agreements to purchase future tonnes of carbon removal if and when they are delivered. These agreements enable suppliers to secure financing, so they can scale their solutions and remove more carbon dioxide from the atmosphere. When tonnes of CO2 are removed, the carbon removal companies get paid and removal tonnes (or units) are issued back to buyers.
The commitment is intended to spur new technologies and support those with the greatest long-term potential by helping them scale. In practice, this likely means paying high prices per tonne today. But it will allow us to accelerate promising technologies that meet specific criteria, including:
Permanence: Stores carbon permanently (>1,000 years)
Physical footprint: Takes advantage of carbon sinks less constrained by arable land
Cost: Has a path to being affordable at scale (<$100/tonne)
Capacity: Has a path to being a meaningful carbon removal solution (>0.5gt/year)
Environmental justice: Ensures meaningful environmental justice outcomes via a robust process focused on local public engagement
This AMC is Shopify's next big move in our fight to reverse climate change. We have made significant strides since launching our Fund in 2019, supporting carbon removal solutions by partnering with 22 entrepreneurial, tech-driven companies and committing more than $32M to climate entrepreneurs. Our purchases have helped our climate-forward partners, including Carbon Engineering, Charm Industrial, Heirloom Carbon, Planetary Hydrogen, and Running Tide, raise tens of millions of dollars, grow their carbon removal capacity by as much as 80x, and/or increase their customer bases by as much as 40x. Our first-of-their-kind agreements have demonstrated voluntary market demand, but it's not enough. We know we can't continue to scale carbon removal alone.
We are thrilled about the possibilities that Frontier will bring to the carbon removal market. Our mission here is to remove friction and enable other companies to easily buy carbon removal, to set high-quality standards, and take a leading role in scaling carbon removal companies selected by Frontier. Want to join us? Find out how to become an early Frontier buyer to help accelerate this historic carbon removal initiative at FrontierClimate.com.
To learn more about Shopify's carbon commitments to date, visit www.shopify.com/climate/sustainability-fund.
- Stacy Kauk
---
Feature illustration by Cody Muir