Shopify Audiences supercharges customer acquisition with new Snap, Criteo, and TikTok integrations
September 25, 2023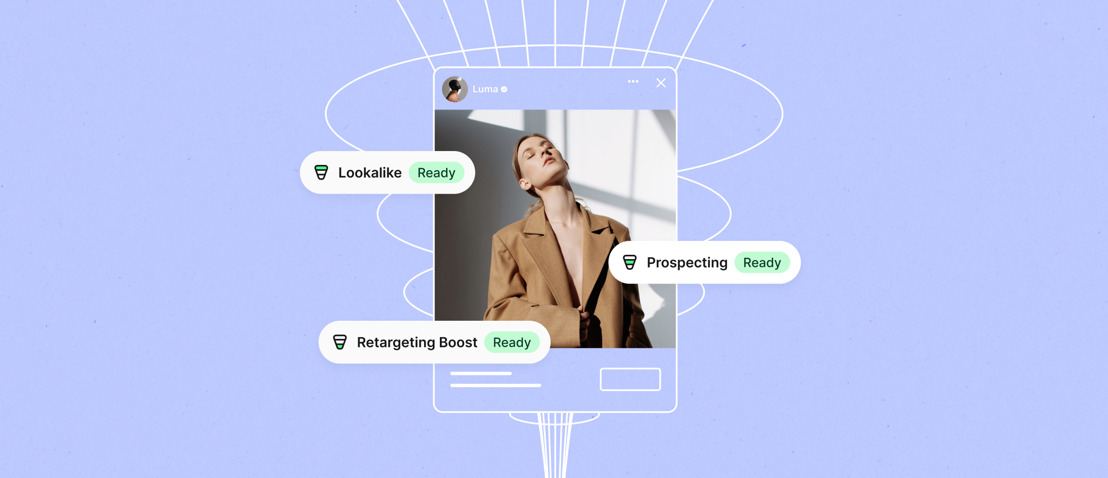 Shopify Audiences* now connects to all major advertising platforms, with Snap, Criteo, and TikTok** added to the existing roster of Shopify's channel ad partners, including Meta, Google, and Pinterest

Shopify Audiences features the highest-performing algorithms yet, reducing customer acquisition costs by up to 50%

Shopify is unveiling a new benchmarking functionality that provides deeper insights into a merchant's ad performance to help them advertise smarter and find new customers
A little over a year ago, we launched Shopify Audiences to simplify customer acquisition and help merchants improve return on ad spend (ROAS).
Since then, we've been fine-tuning it non-stop, rolling out algorithm enhancements every couple of weeks. This constant iteration on our machine-learning technology powering Shopify Audiences has helped merchants cut customer acquisition costs by up to 50%. Scotts Flowers NYC, for example, saw a 140% increase in ROAS, and apparel brand SIMKHAI credits 89% of new customers to Shopify Audiences.
Today, we're unveiling an upgraded version of Shopify Audiences that delivers richer insights and connects to more ad channel partners including Snap, Criteo, and TikTok.
More channel partners to reach more customers
The latest version of Shopify Audiences features new integrations with Snap, Criteo, and TikTok who join our existing roster of channel partners: Meta, Google, and Pinterest—rounding out representation across the major ad platforms for our merchants.
These power-packed ad platform partnerships empower Shopify Plus merchants to maximize their reach to target customers more efficiently and cost-effectively while using their preferred advertising networks.
"We're thrilled to team up with a commerce leader like Shopify to enable merchants to reach more high-intent shoppers on Snap," said Ali Rana, Global Head of Revenue Partnerships for Snap.
Benchmarking functionality for optimized ad performance measurement
But we're not stopping there. The upgraded Shopify Audiences product offers merchants benchmarking functionality to help compare the performance of their campaigns to merchants like them. Let's play this out:
Say a merchant sells custom-made t-shirts. They're an apparel retailer, but that doesn't make them a high-end dress designer. With Shopify Audiences' new benchmarking tool, they can compare their campaign performance to similar merchants, not just any apparel retailer. This provides more relevant insights with a more apples to apples comparison.
The collective power of Shopify merchants
"Shopify is at the forefront of commerce. Wherever there's an opportunity to connect merchants and buyers, Shopify is there first," said Shopify's VP of Advertising, David Wurtz. "Since launching Shopify Audiences last year, our algorithms have only gotten smarter and more effective thanks to the collective power of our merchants. We've long said that commerce is not a zero-sum game. Together, the independent merchants on Shopify help each other win."
As the number of merchants who use Shopify Audiences grows, the algorithm becomes more impactful by leveraging unique insights from shoppers across participating merchants. This in turn improves performance, and so a positive feedback loop forms. In fact, our data suggests that Shopify Audiences can be a key reason merchants choose to upgrade to Plus, with many adding Shopify Audiences on average just a week after their upgrade.
Happy Hippo is a prime example. They launched in 2006 with a mission to make better, safer, more fun bath products for children. They were already on Shopify Plus and wanted to test Shopify Audiences as soon as it was available. In their first campaign, 23% of their sales came from new customers that were directly attributable to Shopify Audiences.
The Shopify flywheel effect
Shopify's products work together to create better solutions for merchants, and Shopify Audiences is a prime example of our unified offerings. For example, Shopify Plus merchants can put their advertising expenses on their Shopify Credit card and earn cash back. This comes in handy as the holiday shopping season comes around and reaching customers effectively is key.
Audiences is a unique advantage only Shopify brings to the table. It taps the combined power of Shopify merchants to help them reach new customers more effectively, and we're continuing to invest in this space to make it easier for businesses to reach customers anywhere.
*Shopify Audiences is available in the United States and Canada to Shopify Plus merchants who use Shopify Payments.
**Full suite of audience solutions for our integration with TikTok will be rolled out in phases and may not be readily available for all advertisers. CAC performance can vary greatly by platform, industry, region and audience. Individual advertiser outcomes will need to be measured in a controlled experiment.