'Tis the season to treat yourself: New data shows holiday sales go way beyond gifts
November 7, 2023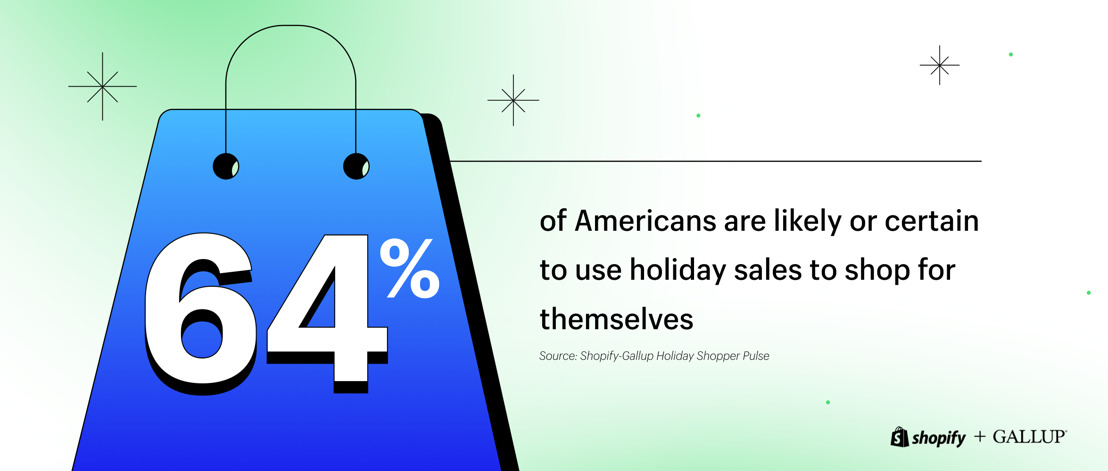 It's the holiday shopping event of the season – but it's not juuust about holiday shopping anymore.
Our new survey reveals that many Americans are using the deals they find on Black Friday-Cyber Monday (BFCM) weekend to self-gift, too.
Sixty-four percent of people we surveyed said they are at least likely to buy something that they won't give as a gift. And 13% said their BFCM purchases won't include any gifts at all!
Some say they'll use holiday discounts to check items off their personal wish lists and stock up on everyday items. Others have waited all year for BFCM to make that big-ticket purchase at the best price.
We spotted this emerging trend in the latest Shopify-Gallup Holiday Shopping Pulse, a series of surveys designed to uncover valuable insights into U.S. consumers throughout the season. After our first round in September, we asked 1,771 people in October what they plan to buy during holiday sales, who they plan to buy it for, and what's driving their purchases.
"Over the years, we've watched BFCM transform from a niche weekend for deal-hunters into a full-blown global event," said Harley Finkelstein, Shopify President. "This is the most lucrative time of the year for many businesses, and it doesn't matter if customers are shopping for gifts or for themselves—this shopping season is our merchants' time to shine. The more reasons to shop, the merrier."
Across the board, every age group in this survey said they're likely to shop for themselves. More than one in three (34%) shoppers said they'll use holiday discounts to stock up on everyday products; another 29% said they'll make a big-ticket purchase they've been holding off on in search of the best possible deal.
Like a wedding veil, for example.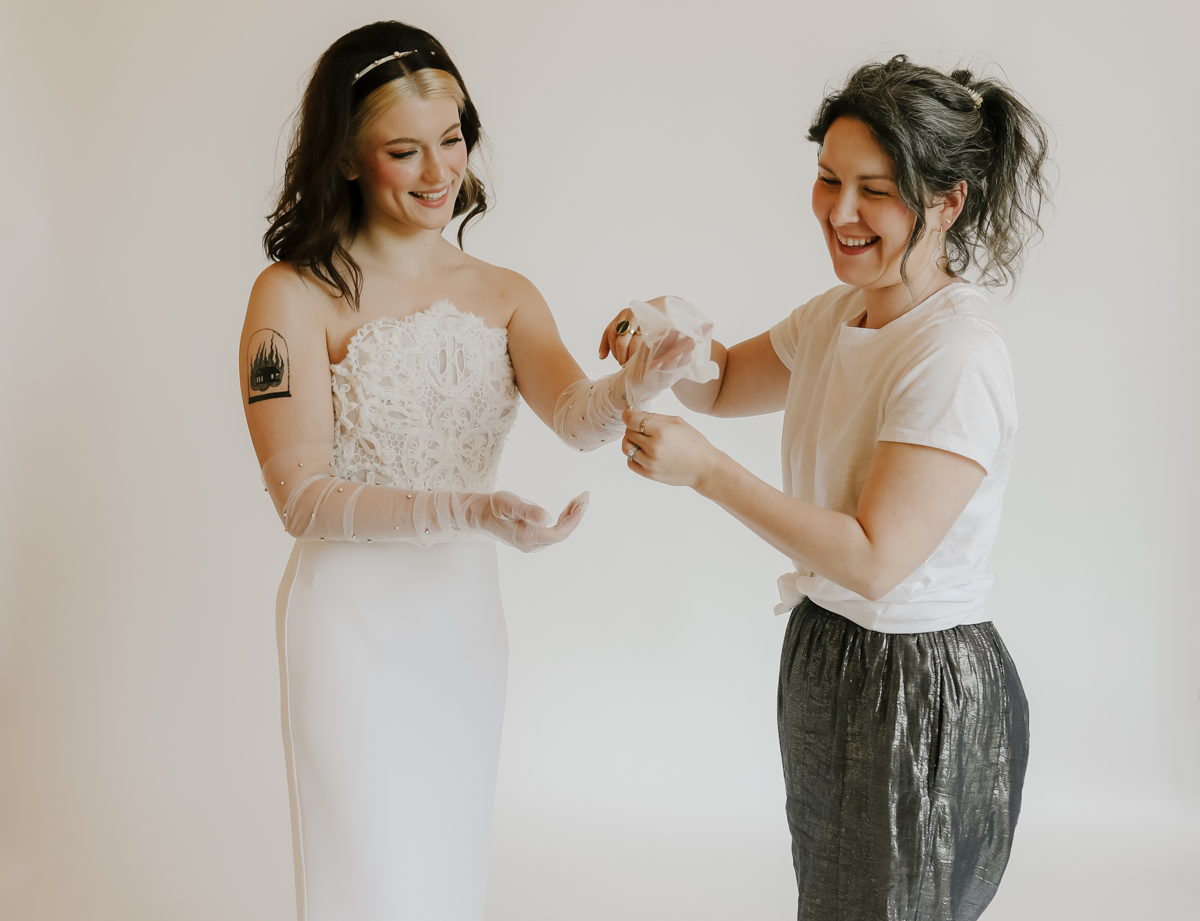 Hushed Commotion, a Shopify merchant in Durham, NC, makes hand-crafted wedding headpieces, veils, earrings, bridal belts, and accessories for brides and bridesmaids. Founder Thea Block-Neal said they started offering BFCM discounts in recent years (typically 30-40% off), and found that 40% of November sales can come just from those few days of deals.
What it means for merchants: The popularity of self-gifting is an opportunity to frame your sales not only around gift-giving, but also around inviting your shoppers to treat themselves. Offer incentives like discount codes for multiple products to encourage them to buy gifts and partake in self-gifting. Speak directly to these shoppers in your marketing to let them know you see them, and you get them—it's okay to spend on themselves, too. You can take advantage of this trend even if you don't sell traditional holiday gifts, since people will be stocking up on staples and non-gifts.
Every holiday order has a story—and it starts with an entrepreneur.
Many shoppers plan to support Small Biz Saturday 💚
Here's something we're really excited about: 36% of holiday shoppers say they plan to buy from a small business on Small Business Saturday (Nov. 25). Another 44% said they plan to shop at a small business on some other day during the holiday season.
Every day is a good day to support small businesses, but Small Biz Saturday is a great place to start.
What it means for merchants: If you're a small business, share that proudly this holiday season! Make sure you have an About Us page telling the story behind your business. Include a photo of yourself. Spend time on social media showing people who you are, what you stand for, and why your business needs to exist. Then get ready for support from like-minded shoppers who want to feel good about the businesses they buy from.
Gen Z want more than just online shopping
Being a digital native doesn't mean you only want to shop in the digital world.
Younger shoppers (ages 18-29, largely adult Gen Zs) are more likely than older shoppers to rank an in-person shopping experience as a key factor in their purchases: 34% of them say this, compared to 25% or less for older age groups.
But this generation wants to be able to shop anywhere. Our September survey found that the same 18-29 age group is also the most ready to shop on social, with 48% saying they'll buy at least some gifts through social media.
These younger shoppers are also the likeliest age group to buy food and drink like gourmet gift baskets or wine, with 54% saying they plan to, ranking second overall just under apparel and accessories (66%). Contrast that with the tastes of the 65+ age group: their top category of choice is gift cards (60%).
What it means for merchants: The future of commerce isn't just online or in-store; it's anywhere and everywhere at any time. Expand your shopping surfaces to include your online store, marketplaces, a physical storefront (even if it's not your own), and social influencer campaigns. And for those older shoppers, make sure your site is set up to sell gift cards. That way, you'll give your customers across generations the option to shop however they like, from wherever they find you.
Cyber Monday continues to be the biggest shopping day
Cyber Monday started in 2005 as the digital follow-up to Black Friday, which was known at the time for its in-person shopping sales. But the last day of the BFCM shopping weekend is cementing its spot as the biggest American shopping holiday.
Continuing a shift we've seen in recent years, 61% of holiday shoppers surveyed say they are at least somewhat likely to shop on Cyber Monday, while only 41% say the same about Black Friday.
What it means for merchants: Save some of your best sales for Cyber Monday to entice shoppers to splurge at the tail-end of the shopping weekend. Use Black Friday's traffic to promote your Cyber Monday promos and keep customers coming back.
October's trending products
One more way we keep our merchants on the pulse of consumer behavior is by sharing our monthly retail trends data.
We looked at October vs. September sales by Shopify merchants in the U.S. Since we know people are starting their holiday shopping earlier this year, we were curious to see which types of products would see a resulting bump in sales.
Sure enough, several holiday decorations and gift categories were already trending before Halloween, including:
Christmas tree skirts +311%

Holiday stockings +165%

Cookie cutters +152%

Toy train and train sets +99%

Wreaths and garlands +83%

Holiday ornaments +66%

Seasonal village sets +47%
👀 Stay tuned for more shopping insights as we gear up for our merchants' busiest time of the year. We'll be cheering on every business on our platform, from kitchen-table headquarters to global enterprise level. You've got this! And we've got you. 💚
–
Results for this Shopify-Gallup Holiday Shopper Pulse survey are based on self-administered web surveys conducted October 4-16, 2023, with a random sample of 1,771 U.S. adults, aged 18 and older, who indicated they planned to buy holiday gifts this year. All participants are members of Gallup's probability-based, nationally representative panel. For results based on the sample of holiday shoppers, the margin of sampling error is ±3 percentage points at the 95% confidence level.
–
October sales by Shopify merchants in the U.S. is based on data from Oct. 1-23, 2023, and compared to data from Sept. 1-23, 2023.